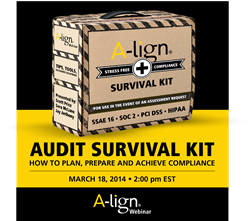 Learn the compliance tools used by the experts!
(PRWEB) February 26, 2014
A-lign's Managing Director Scott Price and Senior Consultant Sara McLane, in conjunction with Jay Anthony from Audit Liaison, PA, will unpack what they keep in their audit survival kits to achieve stress free compliance results!
During the 60 minute presentation, webinar attendees will learn how to:

Determine the right security or compliance assessment for your organization.
Select the right audit firm that best fits your individual needs.
Prepare for a successful assessment.
Conduct an assessment with multiple audit considerations.
Leverage on-going status discussions regarding exceptions or potential issues.
Handle future business considerations, while keeping compliance in mind.
Register for the event at the link below:
Audit Survival Kit (Tuesday, March 18, 2014 at 2pm EST)
About A-lign Webinars: A-lign presents quarterly webinars related to compliance, which are free to the public and also qualify for CPE Credit.
A-lign is a registered sponsor for Group-Internet Based CPE Programs and is listed on the National Registry of CPE Sponsors. Please indicate on the registration form if you wish to receive CPE credit.