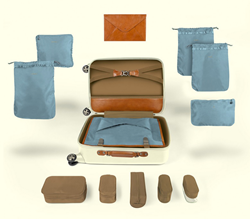 The Ebby Rane collection is unlike anything else on the market today.
London, UK (PRWEB UK) 28 February 2014
Ebby Rane's signature piece – The Quartermaster, is thoughtfully designed with both sophistication and organization for the female executive traveller. Designer Sonja M. Salmon remarks of this new partnership, "Pinstripes & Pearls is the absolute perfect fit for Ebby Rane as it exposes our high quality product to an international audience of women who will appreciate and welcome this must-have luggage system. The Quartermaster is a game changer when it comes to business travel – offering a place for everything on her packing list".
ABOUT EBBY RANE
Designed for style-conscious, sophisticated, frequent travelling women, Ebby Rane modernizes the glamour of old world travel and its classic, vintage Victorian trunks. The collection's signature item, The Quartermaster is a complete carry-on designed with a patented packing system to create an effortless packing experience. Available in three show-stopping colours to complement every signature style, the Ebby Rane collection boasts a modern, flawless design ideal for effortless jet-setting – business and pleasure.
Noting a significant gap in the marketplace, Sonja shares, "The Ebby Rane collection is unlike anything else on the market today. The pieces are timeless and refined – women will appreciate the feminine details. We've received such positive response to this first collection which means we are fulfilling our promise to deliver a product like no other". Ebby Rane is designed to withstand the rigours of frequent travel with its impeccable construction standards and exceptional detail to quality and craftsmanship.
THE EBBY RANE DIFFERENCE
Say goodbye to the jumbled mess forever. Say hello to simplicity and style! The Quartermaster guides your packing with ease and simplicity. There is a place for everything, and everything has its place.
INCLUDING 10 SIGNATURE CARRYALLS:
1. Vanity Case
2. Jewels Case
3. Cosmetics Case
4. Shoe Sleeves (2)
5. Bath/Beach Bag
6. Knickers Bag
7. Laundry Bag
8. Tech Case
9. Liquids Case
10. Dust Cover
Plus... The classic 1887 Clutch
TO REQUEST A PRESS KIT, INTERVIEW OR APPEARANCE, CONTACT:
press(at)ebbyrane(dot)com
FOR BUYING ENQUIRIES CONTACT:
stocking(at)ebbyrane(dot)com
FOR PRODUCT DETAILS VISIT:
http://ebbyrane.com
WATCH THE VIDEO:
http://ebbyrane.com/watch-our-video-packing-the-quartermaster/
PINSTRIPE & PEARLS CONTACT:
press(at)pinstripeandpearls(dot)com