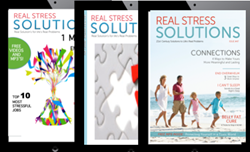 This is not just a magazine- this is a lifestyle toolbox
Provo, Utah (PRWEB) February 27, 2014
Angela Bussio, publisher and editor of Real Stress Solutions digital magazine announces
the availability of her magazine offering into the android phone/tablet market through the Google Play store.
"Up until now the magazine has only been available at the iTunes store/Newstand for iPhone and iPad users, so this is a significant boost to our exposure as a magazine. We are excited at the prospect of being able to serve a larger subscriber base." says Angela
The magazine focuses on a model of stress management that involves going after the 6 core causes of stress and corresponds with a model that Angela came up with as she studied the topic to help her private coaching clients.
Real Stress Solutions offers a multi-media experience of videos, podcasts, articles and one-click purchases on resources for stress relief. "This is not just a magazine, this is a lifestyle recipe book", adds Angela. Adding a large number of Android users to the subscriber list fits with Angela's goals for helping as many people as possible with her "core solution" model for stress management.
A list of pioneering scientists, psychologists and experts in the fields of nutrition, exercise and environmental issues that have all contributed to her newsletter and website http://www.attractingjoyu.com join Angela each month. "My hope is to provide my readers with a collection of 21st century state of the art solutions for living in a stressful modern world," she says.
To subscribe to Real Stress Solutions digital magazine for iPhones and iPads, visit http://bit.ly/1gkei5q For Androids Phones/Tablets :http://bit.ly/1dYE7t9
$6.99/Monthly
$57.99/Yearly
About Angela Bussio
Angela Bussio is a stress strategist, coach. bestselling author, speaker, motivational trainer and publisher of Real Stress Solutions Digital Magazine. Her coaching, books/magazine and online programs empower people with skills and tools to become their own authority in managing stress using state of the art 21st century paradigms. Angela is CEO of Angela Bussio LLC. See Full Bio for more information.