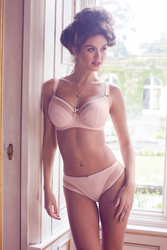 Lois was most sought-after in a G cup, with 51% of sales in black and 49% in pink
Desborough, Northampton (PRWEB) February 28, 2014
Online lingerie boutique Leia has revealed its top-selling collections for the Valentine's period. With some of the most popular underwear ranges seeing sales increases of up to 80%, compared to the same period in 2013.
Leia's retail website, leialingerie.com, allows women to buy lingerie, swimwear and sportswear online. They offer a number of popular underwear brands, such as Huit, Wacoal, B.tempt'd, Elomi and Goddess – with sizes available from an A to a K cup.
In particular, collections from Freya and Fantasie proved most popular with Valentine's shoppers; with pink and black being the best-selling colours.
Launched in January, Fantasie's pin stripe Lois collection sold very strongly. The range features an underwired side support style in sizes up to a 42FF with matching co-ordinates. Lois was most sought-after in a G cup, with 51% of sales in black and 49% in pink.
Freya's Gem and Ooh La La collections also stood out as strong performers. Meanwhile, one of the most popular collections remains Patsy - the best-selling polka dot range, which has seen an 80% increase against the same time last year. Both the black and pink colours in the Patsy range sold well; while the half-cup bra and brief were most popular, and the 32 back option with medium briefs emerged as the best-selling size.
Nigel Addison from Leia Lingerie described how the company was "pleased that our Valentine's lingerie collections were so popular with our customers, but it's also great to see that women are making choices to purchase collections which offer a really great fit, as well as shape, such as Lois from Fantasie and Patsy from Freya. We're really eager to see how this trend continues going into Spring."
As well as retailing underwear, Leia also offers a host of lingerie advice, style guides and fitting at http://www.leialingerie.com/my-leia.aspx
About Leia
Leia has over ninety years of lingerie design experience and aims to provide inspiring and affordable lingerie swimwear and sportswear, from an A to a K cup. Leia principally allow women to buy lingerie online via their retail website, but they also have boutiques in York and Cardiff, as well as Kent's Bluewater shopping centre. The Leia range featuring a wide choice of brands, including Freya, Fantasie, Fauve, Elomi and Huit, with ranges available from a 28" to 48" back. To find out more about Leia, visit http://www.leialingerie.com