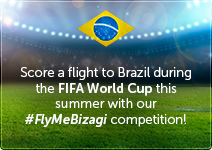 Our pioneering approach broke the mould years ago. But we wouldn't be where we are today without our user community. It's thanks to their honest feedback that we have such a great product. - Jolanta Pilecka, Bizagi CMO
London, UK (PRWEB UK) 26 February 2014
Bizagi, the global Business Process Management (BPM) platform author, has today given both its established user community and new prospects the opportunity to win flights to this year's FIFA World Cup.
By combining the power of social media and the established strength of its 150,000 strong user community, the brains behind #FlyMeBizagi hope to increase an already-impressive 2.5 million downloads of its freemium software, Bizagi Process Modeler and Studio.
An innovative online competition takes its theme from the Beautiful Game, as Jolanta Pilecka, Bizagi CMO, explains:
"The rules are very simple. All our users have to do is recommend our software to their contacts. For each recommendation resulting in a software download, the user gets a point on our league table. The competition is doing well in these preliminary stages, with over 900 recommendations already made. We're getting excited about the results."
Since 1989, Bizagi has offered its Process Modeler and Studio software free of charge for an unlimited time period which is unique in the market.
"Our pioneering approach broke the mould years ago. But we wouldn't be where we are today without our user community. It's thanks to their honest feedback that we have such a great product," Pilecka continues.
Customers such as Generali, Air France, Audi and BAE all began by downloading Bizagi's free software and have continued to be advocates ever since.
"#FlyMeBizagi offers an ideal opportunity for our users, many of them advocates, to share what they love about Bizagi and potentially win a fantastic prize for their efforts," continues Pilecka. "We are very proud of the Bizagi Community who continue to provide invaluable feedback and who have made Bizagi one of the most recognized BPM brands online."
Competition rules:
To play, prospects firstly need to register and then enter the company's referral scheme. Any referrals resulting in downloads can then be monitored on the online Scoreboard.
Competition closes midnight April 30th, 2014.
-----
About Bizagi Process Modeler
Bizagi Process Modeler is an intuitive drag and drop tool used to create process models or to generate process documentation. By implementing Bizagi Studio, users can then automate processes, or turn process models into running process applications ready for deployment across a department or the whole organization. All this can be achieved without any technical knowledge, making it the ideal tool for business analysts and key organizational stakeholders. Because of the ease of access to Bizagi's acclaimed products, and their intuitive and powerful modeling environment, prospects can learn, test and try the system prior to approaching Bizagi. Business people often collaborate with IT at the early project stages, which shorten the development time. This is complemented by a comprehensive self-service program online that includes e-learning, training courses and videos, so the learning curve and adoption of Bizagi software is significantly shortened
About Bizagi
Bizagi (which stands for business agility) is a privately-owned company run by software entrepreneurs who are experts in Business Process Management (BPM). Over 300 global customers have selected Bizagi to model and automate their business processes which results in improved operational efficiencies, shorter time to market and business agility. Our enterprise customers gain significant competitive advantage by using Bizagi's software to streamline mission-critical processes (cross-functional, complex and international) as well as mundane daily routines. With global headquarters in the UK, offices in Europe, USA and Latin America, Bizagi is supported by a strong implementation partner network worldwide. For more information, please visit http://www.bizagi.com.