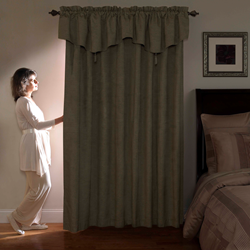 New York, NY (PRWEB) February 26, 2014
The first step to a great night's sleep is creating the optimal sleep environment. The National Sleep Foundation defines the optimal sleep environment as being cool, quiet, and dark. Try thermal, room-darkening curtains like Sound Asleep Curtains to regulate temperature, block light, and reduce outside noise. If noise is still an issue, try a white noise machine that creates a constant soothing sound that can drown out intrusive noise.
Next, dress the bed with comfortable, cotton linens. The last thing that should keep anyone up at night is itchy, hot, or uncomfortable bedding. Make sure that sheets are soft and breathable, and add blankets for warmth.
In addition, as hard as it may sound, keep pets off the bed. Anything that can disrupt comfort, space or position should be kept out of the bed. Curling up in a small ball, while the dog sprawls out over the bed is a surefire way to avoid deep, restful sleep. Make sure that the body has enough space to sleep in the most comfortable position possible.
Lastly, try to develop a sleep schedule. Going to bed and waking up around the same time every day is a great way to train the body to get what it needs out of a night's sleep. The body follows a circadian rhythm that demands consistency. Keeping bedtime and wake time in place is a cue to the body about when it should be awake and when it should be asleep.
For more tips visit Homestyle Brands, and check out the Cruisin' for Some Snoozin' Sweepstakes. Enter for a chance to win great prizes to help create the optimal sleep environment.