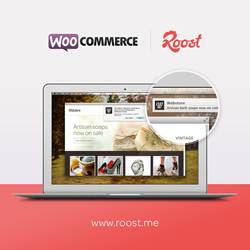 Toledo, OH (PRWEB) February 27, 2014
WooCommerce and Roost have teamed up to bring the power of web push to online stores. The Roost extension for WooCommerce (https://www.roost.me) not only enables desktop push notifications--a powerful and innovative new marketing channel--for e-tailers, the extension provides online stores with a tool to reduce cart abandonement.
When visiting an online store, users are asked whether they want to receive push notifications from the store. If the user chooses to receive push notifications, they then receive desktop push notifications regarding unique offers and product updates. This new channel provides stores with a way to consistently engage consumers about products they care about most.
Push notifications through Roost are not only powerful, but subtle. Desktop push notifications provide a light but consistent method for messaging consumers.
Tim Varner of Roost said, "People often prefer push to email, which gives Roost the upper hand when it comes to successfully solving the problem of cart abandonment. Our creative solution to cart abandonment will provide stores with an influential and strong new marketing channel."
If a customer is shopping a website and happens to leave the site without completing the purchase of items in their shopping cart, Roost for WooCommerce will bring shoppers back. Roost does this by automating push notifications as a cart retrieval tool. After a push notification is delivered, a user clicks on the notification, and is sent back to their abandoned cart, giving the consumer an opportunity to complete their transaction.
The Roost for WooCommerce extension tracks everything for you. This includes total carts and revenue recovered, day-over-day stats, information about your visitor registrations, notifications sent, time-on-site, and total page views.
Roost is based in North America, but the end-user product is presently available in 17 languages with end users in 69 countries.
Notice Software, the parent company of Roost, is based out of Toledo, Ohio.
For more information about Roost, please contact Tim Varner at tim.varner(at)roost(dot)me or visit Roost.me. The Roost for WooCommerce extension is available at http://roost.me/pages/woocommerce-cart-recovery/ or the extension library at http://www.woothemes.com.