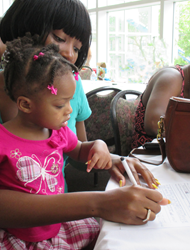 YWHI has provided me with support, resources and useful information and this has increased the progress in my life and Kai's life.
Chicago, IL (PRWEB) February 27, 2014
Born and raised in Chicago, Imani Harris is one of several siblings residing in her parents' Chatham neighborhood home.
As the first young parent to complete enrollment for the Young Women's Health Initiative (YWHI), Imani could be the poster child for the program's success. YWHI is a Chicago based non-profit umbrella organization that governs five community based programs designed to create a profound, sustainable impact on the lives of Chicago south side females aged 13-25.
Imani is completing her senior year at King College Prep High School and will graduate in June, 2014. She was and remains involved in multiple school and community activities, including the varsity track team where she is Team Captain, the yearbook committee, the concert choir, the National Honor Society and her church choir. She also actively participates in volunteer events.
Imani doesn't just participate, she excels. She received the Best Captain's award for her performance as Team Captain of the varsity track team; she was voted President of the National Honor Society, and she is a Section Leader in her school choir – all while raising her young daughter and maintaining a 3.7 GPA. She is also a contender for the Bill and Melinda Gates Millennium Scholarship which she would use this fall to attend the University of Illinois at Chicago (UIC) where she plans to major in computer engineering.
Imani started with YWHI in July 2011, at the direction of her grandmother who knows Dr. Karen A. Scott, the board-certified OB/GYN who founded the program. As a low-income pregnant teenager from Chicago's south side, Imani was the ideal fit for the YWHI Chicago South Side Nurse-Family Partnership® (CSS NFP), which provides young, first-time moms with free nurse home visiting services until the child turns two years of age.
In October, 2011, Imani gave birth to a healthy daughter (Kai), and she credits YWHI with giving her the knowledge and resources to be prepared not only during her pregnancy, but also post-delivery. "YWHI has provided me with support, resources and useful information and this has increased the progress in my life and Kai's life" says Imani. In her home nurse, Imani found "someone she could call her own" and they developed a close relationship as Imani learned how to effectively care for Kai. To obtain needed supplies, Imani took full advantage of the YWHI Kiddie Kash program and used her Kash (credits earned for attending workshops, completing certain activities, etc.) to purchase a stroller, car seat, home baby-proofing kit, toys, diapers and more. With the information and support she received from YWHI, Imani became confident in her ability to successfully transition into parenthood and raise a happy and bright child.
Kai turned two this past October, marking the end of the formal commitment of YWHI, but Imani's involvement with the program yielded continued benefit by providing an avenue to employment with the Illinois Caucus for Adolescent Health (ICAH). In her part-time position as a Youth Leader for ICAH, Imani helps facilitate workshops and "aids the drive for reproductive justice and sexual health" among Chicago youth. While she is actively seeking employment that will provide experience in her desired field of computer engineering, Imani knows the position with ICAH provides income, valuable work history for her resume and the opportunity to further build her leadership skills in a new environment.
Imani's immediate goals are to complete potty training and pre-school enrollment for Kai, and then begin classes at UIC. While she expects college life to be different, with her confidence and history of academic success, it's clear that Imani views this as just another step in her evolution as an adult and her journey as an independent parent.
Somehow it's not surprising that Imani is contemplating a transfer at some point to U of I's campus in Champaign, which is known to have a stronger, highly ranked engineering program. Imani knows that such credentials will help her reach her longer term goal of employment with a major IT corporation following graduation, and also ensure a better life with her precious daughter.
YWHI is hosting a graduation ceremony for Imani and other YWHI clients during the YWHI quarterly community education event on March 25, 2014. The event will be held at Mercy Hospital and Medical Center, 12th Floor Great Room, 2525 S. Michigan Ave. For information about YWHI referrals, employment or donations, call 773-891-2500 or email WHI(at)YWHIchicago(dot)org. For additional information about YWHI, please visit YWHIchicago.org.
###
About Young Women's Health Initiative
Founded in 2009, YWHI combines evidence-based programs and collaborative partnerships to revolutionize the social, sexual, and reproductive health behavior and care for girls and young women on Chicago's South side. Committed to an immediate end to the traditional inequities in urban healthcare, YWHI erases longstanding disparities and radically improves the healthcare and wellness of young urban women. For additional information about YWHI programs, employment or donations, call 773-891-2500 or email YWHI(at)YWHIchicago(dot)org.