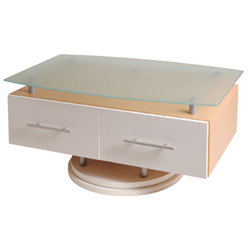 (PRWEB UK) 28 February 2014
FurnitureInFashion is one of the biggest offline and online furniture store in the entire UK region. It specializes in offering furniture at highly competitive rates, which helps buyers with a tight budget to decorate their homes and offices with furniture.
FurnitureInFashion is known to offer something to buyers of all sizes, lavish ones who like to splurge as well as economy ones who want value for money. The latest offer of TV / Hi-Fi stand in Beech finish from this popular furniture store in UK is a cheap option to make living rooms look stylish and elegant. This offering of FIF has a stylish yet elegant look, something unique yet not too loud.
The TV / Hi-Fi stand offered by FurnitureInFashion has a splendid combination of Beech and white. This unusual blend offers it a rare shade that makes it look the best when used in any classic or trendy interiors at home. This elegant looking TV stand or Hi Fi stand is an excellent addition for any place in ones homes, where the user intend to place your TV set. Though television is for entertainment purpose, having it set neatly on a stunning stand of beech finish would offer a complete makeover to ones house or office. What's more, this Hi-Fi stand comes at a very affordable price of meager £39.95.
This is very competitive if you compare with similar products in the market. And given the quality and durability that it has to offer, this stand is certain value for money.
Furniture In Fashion is known for offering products, straight from its German-based manufacturing unit, with strict guidance from experts. For the betterment of the visitors, it has another showroom in Bolton, UK, for those who love to shop from retail outlets. These products are durable and can last for a longer time period. There are some additional services offered by Furniture In Fashion, which is also important and must be noted down. For detailed information its products and services, please log onto their official site at http://www.furnitureinfashion.net/.