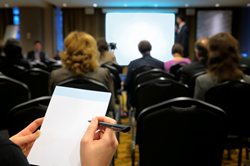 When you're a small business trying to compete on a larger scale nationally and resources are limited, you have to do what the big companies do—find companies that are willing to partner with you to help expand your reach
Columbia, SC (PRWEB) February 27, 2014
South Carolina's premiere leadership training company, Sharper Development Solutions, Inc. is in talks with other female small businesses to create a strategic alliance that will expand its offerings. The collaborations will help Sharper Development Solutions reach a larger audience and give business owners the opportunity to enhance the productivity of their staff.
Betty Parker is currently working with multiple female owned small businesses in an effort to provide the best leadership solutions for managers across all experience levels. Most recently Parker has met with Stacy Jemmott-Hunt, an IT specialist, who is a provider of technology training as well as leadership development both online and in the classroom. Stacy's company, Inside Out Learning Concepts, will help construct a webinar series that Sharper Development will be offering later in the year.
Parker also has a collaboration with Tina Taylor of Lifetime Leaders in Reston, VA in the works. Taylor's company will provide instructional design and facilitation of leadership topics along with Betty Parker in the coming months. Parker has also met with Katrina Spigner, a certified coach in Columbia, SC, to discuss the potential of increasing executive coaching opportunities for her clients.
"When you're a small business trying to compete on a larger scale nationally and resources are limited, you have to do what the big companies do—find companies that are willing to partner with you to help expand your reach," says Parker.
Parker plans to roll out a number of partner programs with local female owned businesses throughout 2014. For more information or to be involved please visit http://www.thesharpersolution.com.
About Sharper Development Solutions, Inc.
Sharper Development Solutions, Inc. is a training and development company that focuses primarily on leadership skills development. Headquartered in Columbia, SC, the company provides training to leaders nationally and includes not only leadership and management training but also workforce development. Sharper Development was chosen as a 2013 Count Me In Urban Rebound winner which recognizes and grows high potential female-owned small businesses. Other services provided are executive coaching and professional speaking.