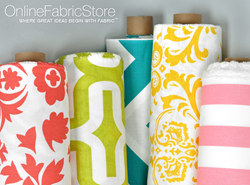 This season we focused on fresh designs, durable outdoor materials, fun quilting cotton prints by Joel Dewberry, Springs Creative and Alexander Henry
West Springfield, MA (PRWEB) February 28, 2014
The multi-generational, family-run fabric retailer OnlineFabricStore (OFS) has added new fabric styles and do-it-yourself supplies in anticipation of its customers' home décor and outdoor projects for the spring season. The new selection includes 30 vibrant fabrics by Premier Prints with trendy styles including floral, damask and chevron, and new reversible, nautical upholstery fabric.
"This season we focused on fresh designs, durable outdoor materials, fun quilting cotton prints by Joel Dewberry, Springs Creative and Alexander Henry, fleece and minky fabrics, and even furniture paint—anything that might help our customers liven up their homes for spring and summer," says Christy Johnson, Product Manager for OnlineFabricStore. "We're engaging our DIY community through social media too, encouraging them to submit their spring projects for a chance to win OnlineFabricStore.net gift cards through our 'Refresh with OFS' contest," she adds.
OnlineFabricStore (OFS), one of the country's largest inventories of high quality upholstery, drapery, apparel and industrial fabrics, is dedicated to providing its customers with the best and most hard-to-find fabrics at the lowest possible prices.
To see all of OFS's new products, click here.