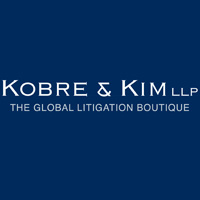 William McGovern 'knows his stuff, but is also approachable, pragmatic and friendly'
Hong Kong (PRWEB) February 27, 2014
For the second year in a row, William McGovern, from Kobre & Kim's Hong Kong Office, was ranked among the leading practitioners for his work in Dispute Resolution: Anticorruption, in the 2014 edition of Chambers Asia-Pacific.
In addition to Mr. McGovern being regarded as a first choice referral candidate, the guide pointed out that his peers consider him a lawyer who "knows his stuff, but is also approachable, pragmatic and friendly" with a source noting that, "if my firm was in the same market, he's the man we'd want."
A former U.S. Securities and Exchange Commission enforcement attorney who led the opening of Kobre & Kim LLP's Hong Kong office in 2010, Mr. McGovern has used his extensive prior government experience to help establish the firm as the premier litigation boutique for institutional and private clients facing international government investigations, often involving securities law violations, antitrust, FCPA/bribery, money laundering, corporate accounting fraud, and various other laws with international applications.
Kobre & Kim LLP is a conflict-free international law firm focused exclusively on litigation, arbitration, and investigations. Operating out of offices in New York, London, Hong Kong, Cayman Islands, British Virgin Islands, Miami and Washington DC, Kobre & Kim LLP is the premier firm for international disputes.
The firm leverages the skill and experience of English solicitors and barristers (including three English Queen's Counsel), offshore lawyers, and U.S. trial lawyers (including more than a dozen former U.S. Department of Justice and U.S. Securities and Exchange Commission lawyers) in an integrated advocacy team. This unique offering provides the firm with the full capability to litigate and arbitrate in the world's leading jurisdictions for complex financial, commercial, and insolvency disputes as well as cross-border government enforcement, regulatory investigations and judgment enforcement matters.
Many of the firm's cases involve simultaneous proceedings in various U.S. and non-U.S. courts, as well as the offshore jurisdictions (e.g., BVI, Cayman Islands, etc.), and various major international dispute resolution centers in Asia, Europe, and the Americas.
About Chambers and Partners:
For more than twenty years, Chambers has published the leading directories of the legal profession. Their reputation is based on the independence and objectivity of our research.
Chambers has more than 130 full-time researchers who interview thousands of lawyers and their clients around the world. This intensive, continuous research identifies the world's leading lawyers and law firms - those which perform best according to the criteria most valued by clients. No lawyer can buy their way into these rankings. As a result, Chambers and Partners directories - published annually - are known to be the most accurate and the most reliable.
For more information on Chambers and Partners, visit their website: http://www.chambersandpartners.com