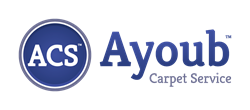 "Even with excellent ratings, Ayoub Carpet Service is always searching for ways to offer more and better serve our clients. You don't stay in business for over 60 years without continually trying to improve."
Chantilly, VA (PRWEB) February 28, 2014
For the sixth year in a row, Ayoub Carpet Service has been awarded Angie's List Super Service Award. ACS is listed under the following categories; Carpet Cleaning, Oriental Rug Cleaning and Repairs and Flooring Sales & installation. This award is given to the top 5% of providers within a specific market/category. The company must receive an A rating from members for 1 full year. Joshua Maples, an account representative from Angie's List, states that, "less than 5% of companies listed within Angie's List meet the requirements each year."
President, Daniel Ayoub is very grateful to be receiving this acknowledgement several years in a row. "We received this because our clients appreciate the service we provide along with the professionalism in which we provide said service. To date, we have 496 reviews, 456 are "A" ratings – that's 92%! We realize, we won't be able to please everyone and receive 100% "A" ratings, but we see the 8% that rated us below an "A," opportunities for us to improve. You don't stay in business for over 60 years without continually trying to improve."
One of the things Ayoub has heard the most is that customers wish there was a showroom more conveniently located to Washington DC area. Dan has listened to his clients, and will be opening a second showroom in the Falls Church area early spring. The Falls Church location will offer carpet, hardwood, custom ordered rugs, luxury vinyl tile and laminate. In addition, this location will serve as a drop-off/pick-up location for Oriental Area Rugs Cleaning and Rug Repairs.
"Even though we originally began in Arlington, VA, we are excited to be returning close to the area where it all started back in 1952."
###
Ayoub Carpet Service – (ACS) is the Original Ayoub, serving the Washington DC, Maryland and Northern Virginia area since 1952. ACS provides carpet cleaning, rug cleaning and repairs, upholstery cleaning and has a comprehensive showroom that offers carpet, rugs, hardwood, luxury vinyl tile and laminate for sales and installation. Full service provider for all of your flooring needs.