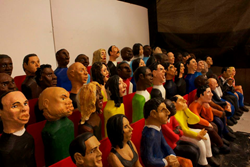 London UK (PRWEB UK) 27 February 2014
For over 100 years, London's Goldsmiths University prestigious Department of Art has impacted the world of visual cultures. In addition to launching careers of art icons such as Lucian Freud, Antony Gormley and Bridget Riley, Goldsmiths University has produced over 20 Turner Prize nominees.
In the 1990s, a new collective of artists stepped forward when Damien Hirst and Tracey Emin's Young British Artists joined hands with global collector Charles Saatchi.
Is it time for a new movement of art in London, and will it be influenced again by Goldsmiths philosophy? Come see for yourself at the Middle, an exhibit from a student collective of the 2015 Goldsmiths University Fine Art/Art History Degree show at:
Goldsmiths-The Middle
The Rag Factory/Apricot Gallery
16-18 Heneage Street London E1 5LJ
14th-15th March 10AM-10PM
16th March 10AM-6PM
https://www.facebook.com/middlecollective