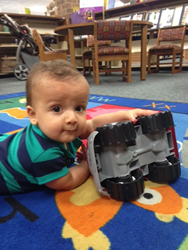 My goal is to fill that void by providing an environment where children will be cared for and challenged therapeutically.
Naperville, IL (PRWEB) February 27, 2014
Children with Autism require intensive one-on-one therapy to facilitate their growth and generalization of skills. However, families, especially working families, are faced with having to sacrifice therapeutic progress for daycare in order to keep their jobs. There is a need in this community for children to attend a daycare that combines traditional childcare with therapeutic interventions.
Kiya Olson, the owner and operator of ASPB Therapy Pathways, is excited to introduce this program this year. She is making groundbreaking changes to provide an affordable therapeutic daycare to children with special needs.
"There's an area in our community that's missing; and that is for qualified daycare providers for special needs children," says Olson. "My goal is to fill that void by providing an environment where children will be cared for and challenged therapeutically."
This type of facility would be of significance to a family like Kayla and Tim.
Over the past few months Kayla and Tim had been growing anxious regarding some of the behaviors their two-year-old daughter, Kate, was displaying—Kate was not responding when her name was called; she scattered toys around the room; she cried when her routine was broken, and she only had a handful of words that she was using consistently. After six months of early intervention therapy, Kayla decided to get a comprehensive evaluation done on Kate to see the source of Kate's behaviors.
Kayla and Tim brought Kate to her assessment, and after a couple of hours, the doctor gave them the life changing news that Kate has Autism Spectrum Disorder. The doctor recommended that they immediately supplement Kate's early intervention services with comprehensive developmental therapy, commonly known as Applied Behavior Analysis.
After a silent car ride home, in which thoughts of the feasibility of financial obligations, the responsibilities of working full-time, and the possible integration of therapy into their lives were pondered, Kayla was at her wits' end. Kayla also pondered Kate's childcare arrangement. Kate's daycare teachers are wonderful and clearly care for her, but they seemed to be at a loss for how to engage with her.
One of the teachers confided in Kayla, telling her that Kate spends most of her day wandering around the room not engaging or participating in activities. Since there are 11 other children with only two teachers in the classroom, the facility simply cannot care for Kate in a way that would facilitate her learning and developmental growth.
Kayla, Tim, and Kate are not alone. They are not one specific family; rather, they are a combination of circumstances across many families that Olson has heard spanning her 10 years in the field. According to the organization Autism Awareness, the incidence of Autism is steadily increasing. The current statistics are one in 88 children are diagnosed with Autism Spectrum Disorder. This is an increase of 78 percent from 10 years ago; and one in 54 boys are diagnosed with it. According to a study published in Pediatrics journal in 2008, families with a child with autism spectrum disorder are 7 times more likely to state that child care problems affect employment than other families.
Olson has dedicated the past 12 years to helping children with developmental delays and supporting their families. She has been diligent about equipping herself with the highest measures of education and training, so that she can provide excellent care for every child that she assists. To this end, she has garnered a Masters Degree in both Developmental Psychology and Clinical Psychology, with an emphasis in counseling; she is a board certified behavior analyst (BCBA) as well as an Illinois credentialed early intervention developmental therapist; and she is a certified Relationship Development Intervention (RDI) consultant.
"Olson has unending amounts of patience," says Ernest, a parent of a child who has been receiving therapy from Olson for eight years. And Olson understands that patience is key when making groundbreaking changes within the special needs population.
The need for a therapeutic daycare in this community is evident, however it requires the support of people who believe in helping the special needs population to spread the word and donate to this cause. To find out more about how to be a part of this revolutionary change and make donations, please visit http://igg.me/at/allaboutchanginglives/x/5609650.