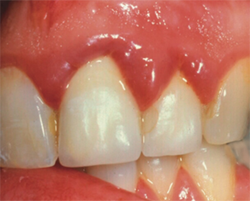 Mouth swelling and gum recession are signs of oral health degeneration which may ultimately effect heart health.
Bracebridge, Muskoka (PRWEB) February 28, 2014
As February "Heart Awareness Month" comes to its close in Canada, it's important to address how oral health directly impacts heart health. The debate between investing in health prevention through oral care costs versus long term costs associated with failure to prevent risk are weighted heavily in a lack of management of oral health leading to possibility of heart disease, stroke and heart attacks.
Failure to invest in prevention leads to long term risks. Canadians strongly need to consider the rising costs of health care management. Fact supports oral care and heart health are related through symptoms of oral inflammation. Inflammation is a biological response within the vascular tissue system. Manifest symptoms provide body responses through pain, particularly mouth swelling and gum recession. Oral health and heart health are directly related when inflammation occurs allowing bacteria to spread to the blood stream. A common oral bacteria called Fusobacterium Nucleatum can work to allow itself and other bacterias into the bloodstream.
The best path to protect oral and vascular health is regular maintenance of the teeth and gums to ensure periodontal health. While flossing, brushing and a healthy diet can assist with maintenance it's important to be aware of soft tissue management. Maintaining a regular relationship with a dental care provider can assist to manage health conditions, as a healthy smile supports a healthy heart.
"Muskoka Dental is an established dental practice in Bracebridge, Ontario, offering general and cosmetic dentistry to families in Bracebridge, Gravenhurst and Port Carling."