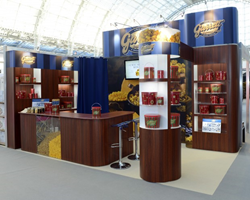 Essentially, all the work is done for the client, and the product's quality will be proven when they see the pre-build.
Poole, Dorset (PRWEB UK) 27 February 2014
Quadrant2Design, exhibition stand contractor and sole UK supplier of the Prestige System, say they can save customers lots of time and money throughout all stages of the exhibition process.
Quadrant2Design build exhibition stands that go out to clients competing in vast exhibitions around the world. Building an exhibition stand can be a very costly and time-consuming business but, with the Prestige system, both expenditure and time-wastage are minimised.
In terms of time, Quadrant2Design's fully in-house service means that exhibitors will only need to rely on any one person for updates at any time. Furthermore, photos are sent to every client at different stages of the construction process, like the "pre-build", a full construction of the stand, graphics and showcases included. This meaning that customers will see their stand without having to travel down to see it (though that is an option), plus it means that any inconsistencies with the original plan can be rectified ahead of any deadlines.
"Essentially, all the work is done for the client, and the product's quality will be proven when they see the pre-build. This saves them a lot of phone-calls, travelling, and worrying, and allows them to get on with other things. Think of it as out-sourcing your multi-tasking skills, but with little chance of failure," says Chloe Anderton, Design Director at Quadrant2Design.
Of course, what everybody wants is cost efficiency; the best possible result from the smallest possible investment. Obviously, quality should not be compromised, which is why Quadrant2Design offer competitive prices.
Chloe continues, "Here at Quadrant2Design, what exhibitors get for their money is not just 'one' stand. The Prestige System is different to Custom Build alternatives, it can be reconfigured and reused to save money."
By utilising its modular nature to its fullest potential, the Prestige System gives customers the tools to build a stand over and over again to fit different exhibition stand spaces. Rather than purchasing one stand and then realising the need for two more to fit different sized spaces, customers of Quadrant2Design are able to re-use that one stand and reconfigure it to the new shape that is required.
For example, if exhibitors are planning on exhibiting at three shows, they may only need to buy one set of equipment. Imagine Lego. The pieces are the same size but can be broken down and reassembled to make more impressive shapes. Therefore the only real restriction to the stand are the space limitations at the show.
Quadrant2Design are also offering two ways of paying for an exhibition stand. The Free Hire option loans customers all the equipment needed, so that they will only be paying for their graphics and the cost of installation and transport. This will significantly lower the cost of exhibiting in comparison with other options, plus there is no need to pay storage for equipment that may never be re-used.
Self-build means that clients have their exhibition stand (graphics and framework) which they transport and build at the show themselves. Fortunately, all elements of the Prestige System are easily compacted and it is unlikely that other transport will need to be arranged – a normal sized car will do. With both options, then, the Prestige System, in addition to Quadrant2Design's offer, minimises cost wherever possible, including external factors that are not necessarily Quadrant2Design's responsibility. Also, because Prestige is so easy to build, exhibitors won't need to hire extra labour to help install the stand; the exhibitors will be able to do it themselves without the use of tools.
Quadrant2Design has built its reputation on high-quality products with a personalised service. It has many elements that help cost-save, many of which will add up over the exhibiting period. Quadrant2Design's website can be found at http://www.prestige-system.com/. For a free stand design proposal, or for help discussing the cost of an Exhibition Stand, please call 01202 650333 or email designteam(at)quadrant2design(dot)com.