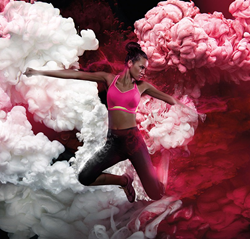 Freya Active's new Crop Top Sports Bra reduces breast pain, strain and independent breast movement during exercise
Desborough, UK (PRWEB UK) 28 February 2014
Doctor Pixie McKenna, from Channel 4's Embarrassing Bodies, has made an exclusive appearance alongside sports underwear brand Freya Active at this year's Moda – the UK's largest trade show for the intimate apparel industry.
Doctor McKenna took to Moda's main stage to speak about the importance of maintaining breast health during exercise. She was joined by Nicola King from sports bra brand Freya Active to talk about the latest breast support research conducted by the underwear manufacturer.
The first of its kind, Freya Active's study was carried out by scientists at the University of Portsmouth. The results proved categorically that Freya Active's new Crop Top Sports Bra reduces breast pain, strain and independent breast movement during exercise. The pioneering study analysed these three key factors at 17 different locations across the breast; all through a range of bra sizes ranging from 32FF to 36E.
Since launching in 2008, Freya Active have offered innovative non-compression, bust separation sports bras with unrivalled fit, support and comfort up to a K cup.
To unveil Freya's latest – and most advanced - product, the new Crop Top Sports Bra was modelled at Moda by England netball star Sasha Corbin. Freya Active sponsor the England netball team and have backed a number of initiatives to boost the popularity of the sport.
Ann-Marie Manley, Head of Marketing at Freya Active said, "Up to now, we've only had limited knowledge about the breast during exercise and we really wanted to investigate further. For us, being larger cup size specialists, it was vital that our study was conducted on a number of larger cup size women. It was great that Doctor Pixie McKenna was able to highlight how the breast being a barrier to exercise is still an issue that women deal with as she raised awareness of maintaining breast health."
About Freya
Freya offers lingerie, loungewear, swimwear and sports bras especially designed to offer fit and support for women with larger bust sizes. Their range is available up to a K cup and includes balcony, plunge and strapless bras. For more information about Freya please visit freyalingerie.com or email press(at)freya(dot)com