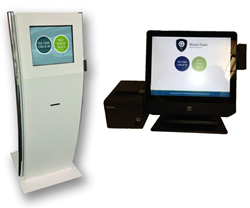 Changing the way we pay at golf courses...
Miami, FL (PRWEB) February 27, 2014
TeeBox is a Golf Kiosk that allows golf courses to automate the process of checking in golfers prior to their round. These Check in Kiosks can be integrated with P.O.S. and tee sheet systems to create an easy-to-use interface that will save golf shop both time and money. The time saved by automating the task of checking in and paying for a round of golf can be used by staff providing guests with more quality, one-on-one customer service.
The feedback from the PGA Show was overwhelmingly positive, and came from all areas of the golf business. Course owners were excited at the prospect of needing less staff to manage busy times of the day, while still being able to offer customers the service they require. General managers and golf professionals liked the idea of being able to get staff out from behind the counter in an effort to up-sell more merchandise off the shop floor along with the tee times that golfers are paying for. Lastly, the average golfers loved the idea of coming in to the shop, pressing a few buttons to pay for the round, and being on their way. On busy days, the line in the pro shop can get to be a long wait, so golfers are looking forward to being able to put this technology to use for themselves.
With such a positive experience at the Golf Show behind them, TheGrint Group is excited to continue on with this technology and get the Check in Kiosks placed in more and more shops around the country. Golf courses who are looking for that next edge over the competition might just find it in the innovation and efficiency that the Golf TeeBox kiosk has to offer.
For more information about this exciting product, please take a moment to visit http://www.GolfTeeBox.com.