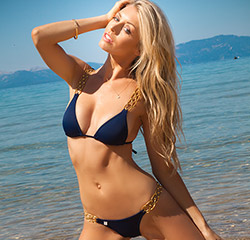 Big Red Hearts… featured in the 2014 Sports Illustrated Swimsuit Issue.
Belleair Beach, Fl (PRWEB) February 28, 2014
TeenyB is thrilled to announce the release of their new 2014 Spring line. Exciting additions for Spring demonstrate designer Katie Gardner's ever evolving eye for attractive prints and bold new styles.
Katie describes the Spring Release as "versatile, bright and breathtaking. This year we have a few really great prints in new styles that will be terrific additions to building that bikini wardrobe. I wanted to focus on creating pieces that can involve mix and matching from previous collections, while still evolving the overall styling forward so it doesn't feel stale. And of course, we always have to create a few of those just knock-out gorgeous suits. Our Siren's Bikini with a flexible gold mesh trim in Navy is just striking."
TeenyB is continually striving to evolve their product lines, thru expanding their style collection.
"We believe we have really helped evolve the Brazilian bikini market by simply creating products that fit more body styles. Think about it, today as women, we have hundreds of choices of jeans to wear. Each small tweak and adjustment creates an entirely new bottom, and we love it, the market loves it. We fulfill that same desire thru the designing of our Brazilian bikinis."
Sports Illustrated Swimsuit took notice of the Brazilian designs by TeenyB for a third year in a row. The 2014 Issue features TeenyB bikinis on Rookies Sara Sampaio and Gigi Hadid. Additional TeenyB bikinis can be seen on Katelynn Bock, Bregje Heinen, Anastasia Ashely and Hannah Davis at http://swimsuit.si.com.
Some fresh Spring additions include newly designed Triangle Bra tops in 3 variations. They offer a comfortable and sporty fit with a unique twist to the Classic Triangle Top. The Triangle Bra tops are perfect for someone who loves the shaping of a triangle bikini, but need a little more support. Taking it a step further with the sexy Triangle Cutout & Triangle Cross Top, are the addition of peek-a-boo straps for a seriously flirtatious variation. Listening to core customers requests and reviews, TeenyB continues to re-imagine and modify their popular Shortie bottom to expand its styling. This bikini bottom is popular because its fit is superb and now new selections are available with modifications in style for the front, or the side.
"Our company is unlike others because we are constantly striving to design down to the smallest details. What may only be ½ difference on a side strap may make a huge difference to someone who wasn't able to wear our brand before. Everyone deserves a chance to feel what its like to wear that perfect fitting bikini. Going into our 6th season has allowed us to see what really works for people and then take the time to expand upon it further."
TeenyB's new Spring prints stand out with their bright and bold colors. Highlighted prints for Spring include the "Honeycomb Floral" -- a rich pink digital floral design and "Big Red Hearts" -- a retro heart print that is featured in the 2014 Sports Illustrated Swimsuit Issue.
The new 2014 Spring Line can be viewed in its entirety at http://www.teenyb.com/whats-new.aspx.
See TeenyB Bikini Couture's entire collection at http://www.teenyb.com.
About TeenyB Bikini Couture
TeenyB Bikini Couture is a Florida-based luxury swimwear brand by Katie Gardner that offers a multitude of Brazilian style bikinis that cater to a flattering fit for the female form. Hand crafted from the finest fabrics and trims. TeenyB bikinis bring a new element to luxury and style.
Contact Information:
TeenyB Bikini Couture
(727)542-0005
media(at)teenybikini(dot)com
http://www.teenyb.com/