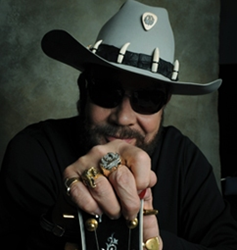 Houston, TX (PRWEB) February 26, 2014
Tickets go on sale Saturday, March 1 at 10 am for the third annual Coastal Conservation Association (CCA) Concert for Conservation at Sam Houston Race Park (http://www.shrp.com). Hank Williams Jr. will headline this year's event marking his first performance in Houston in over 13 years.
Hank Williams Jr. blends southern rock, blues, and traditional country to make his legendary sound, which has earned him 5 Grammy Awards and numerous other awards and nominations. Fans will be treated to well-known songs such as "A Country Boy Can Survive", "Family Tradition", and "There's A Tear In My Beer".
Also set to perform on May 17th are southern rock group 38 Special, and up and coming country artist Wade Bowen making this concert a must see for all Houston music fans.
Early bird general admission tickets benefitting CCA will be available beginning March 1st through March 23rd for $25 each. Advance tickets will be $35, and will be available March 24th through May 16th. Tickets on the day of the show May 17th will be $45 at the gate. A limited number of reserved seats will also be available to fans. Tickets are available online at http://www.shrp.com, at participating Houston-area Randalls locations, Sam Houston Race Park box office or by calling 800-211-3381. All dates, acts, and ticket prices subject to change without notice. Additional service fees apply.
The Concert for Conservation will take place in the Sam Houston Race Park Showgrounds and will feature performances throughout the evening. Earlier in the day, the Park will host a special simulcast of the 139th Preakness Stakes, the second leg of the much-acclaimed Triple Crown. Fans attending the concert are welcome to come out early to enjoy an exciting day of racing.
For the first time this year, the Concert for Conservation will have reserved seating in front of the stage in addition to standing room only general admission. The show is an open air, uncovered event and is open to all ages. Lawn chairs and blankets are allowed. Lawn chairs will be available for purchase on site. The Showgrounds gates will open at 5pm with the first performance starting at 6pm.
About CCA Texas:
CCA Texas is a non-profit marine conservation organization comprised of tens of thousands of recreational anglers and coastal outdoor enthusiasts. CCA Texas was formed in 1977 by a small group of recreational anglers who were concerned after drastic commercial overfishing decimated Texas redfish and speckled trout populations. More than a quarter of a century later, CCA Texas continues the spirit of stewardship that started with the "Save the Redfish" campaign.
CCA Texas unmatched breadth and depth of volunteer involvement has made it the largest marine conservation group of its kind, enacting positive change on all levels of coastal marine conservation and management.
About Sam Houston Race Park:
Sam Houston Race Park is Houston's premier racing and entertainment facility, located just 15 minutes from downtown Houston, and offers a variety of attractions including a number of luxury suites overlooking the race track, The Pavilion Centre, and award-winning dining options at the Winner's Circle Restaurant and the Champion Energy Services Jockey Club. For more information on upcoming shows, events and tickets, please visit http://www.shrp.com.
###