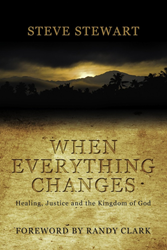 "When we begin to move in the rhythm of God's Kingdom––rescue, reconciliation and restoration––we step into a place of His empowering grace,"
Vancouver, B.C. (PRWEB) February 27, 2014
Jesus Christ declared a gospel that is radical in its scope and implications, and powerful enough to bring change to everything it touches. In the new book, WHEN EVERYTHING CHANGES: Healing, Justice and the Kingdom of God, founder of Impact Nations and author Steve Stewart details how to join the movement of God's Kingdom based on what he has learned through 33 years of ministry work ranging from developing Christian schools, to planting and leading churches, to training and sending teams across the world in the love of Christ.
Steve challenges readers to step into a place of exciting new possibilities and let God use their lives in healing, justice and mercy ministries in surrounding communities. Steve enlarges our worldview and challenges the reader to become an active participant in God's greater story of rescue and restoration. WHEN EVERYTHING CHANGES equips you to step into the front lines of joyful and life-changing realities of God's Kingdom.
"When we begin to move in the rhythm of God's Kingdom––rescue, reconciliation and restoration––we step into a place of His empowering grace," explains Stewart. "We soon discover that we can do more, and do it faster than we ever imagined. The impossible becomes possible."
As a leader in practical and missional ministry, Steve Stewart shares his wisdom on furthering the Kingdom, transforming entire communities with healing, justice and mercy and how any of God's children are capable of the adventure of actively working for God's Kingdom.
In his forward to the book, Global Impact's Randy Clark states, "I am so happy to see someone who is an evangelical write a book that has an emphasis upon justice. I believe the charismatic world that has so much emphasis upon personal prophecy, and the evangelical world that has an emphasis upon end-time prophecy, needs to have the plumb line of God's word to bring back the biblical concert of prophecy for the poor, the widow, and orphan, and for justice...This book captures the heart of God. I highly recommend WHEN EVERYTHING CHANGES to all pastors, leaders and disciples of Jesus."
WHEN EVERYTHING CHANGES: Healing Justice and the Kingdom of God by Steve Stewart. Available in stores now.
About Impact Nations:
Since 2005, Impact Nations has been dedicated to bringing hope and restoration to the poor and vulnerable in the developing world through both supernatural and practical expressions of the Kingdom of God. Founded by Steve and Christina Stewart, the organization takes teams from the West to engage in front line ministry: Christ is preached, the sick are healed, and the Gospel is demonstrated through feeding programs, mobile medical clinics, installing clean water systems and other practical demonstrations. Building upon the bridges built during these Journeys of Compassion, Impact Nations establishes long term, sustainable projects that bring about community transformation. Follow the team on twitter at @impactnations. http://www.ImpactNations.org
WHEN EVERYTHING CHANGES: Healing, Justice and the Kingdom of God
Author: Steve Stewart
Publisher: Freshwind Press
Softcover suggested retail price: $19.95
ISBN: 978-0-9811409-5-7
# # #
For more information or to schedule an interview with Steve Stewart, please contact:
Lori Lenz-Heiselman
714-553-5181
Lori(at)FrontGateMedia(dot)com