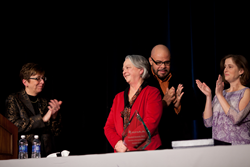 ...my role is to provide a safe place for them to do what they do well.
Dallas, TX (PRWEB) February 27, 2014
Kennedy was presented with the AHAA President's Award, which honors an Associate who exemplifies the key attributes that help create a successful practice — a commitment to training, process improvement, use of solutions, and, most importantly, leadership. The award was presented at the 19th annual American Hearing Aid Associates (AHAA) Convention. This year's Convention was held February 19-22, in Dallas where more than 300 industry professionals attended.
"I don't see myself as a leader; I see myself as part of a really great team," said Kennedy. "I have been lucky to have assembled a group of great people and my role is to provide a safe place for them to do what they do well." The audiologist and owner of Associates in Hearing HealthCare has more than 25 years of experience working with individuals who have hearing loss.
"Elizabeth wanted to do more — for her patients and her employees," said AHAA President, Tina Soika. "In 2013, she committed to growing the business further by adding staff members, elevating her marketing efforts, and creating an environment of opportunity for all the members of her team. As a result, she and her team had a great year, finishing up 61 percent over 2012."
"We've had some nice growth this past year. We spent the last few years laying a foundation and now a number of those seeds have provided results," added Kennedy. "I am honored to provide a good work home for as many individuals as it does, servicing as many patients as it does. I pinch myself every once and awhile to make sure this is as lovely as it is."
Before entering the private sector, Kennedy worked in a variety of clinical settings and taught graduate courses as Associate Professor of Audiology at Temple University in Philadelphia for more than 17 years. She earned her Doctorate in Hearing Science at City University of New York, is a member of the American Speech-Language-Hearing Association, and is a fellow of the American Academy of Audiology and the Academy of Rehabilitative Audiology.
Associates in Hearing HealthCare has offices at 121 Clements Bridge Road in Barrington, N.J., and 406 G Lippincott Dr. in Marlton, N.J.
To see Dr. Kennedy discuss her accomplishments view the award video award video at AHAAconvention.com.
About Associates in Hearing HealthCare
Associates in Hearing HealthCare has offices in Barrington, N.J. and Marlton, N.J. Staff members are dedicated to keeping abreast of the latest technological advancements in the hearing industry and are committed to offering the most current options to patients. Associates in Hearing HealthCare offers a full range of diagnostic and preventative hearing services, including hearing aid screening, evaluations, hearing aid sales, and rehabilitative and preventative counseling. Learn more at http://www.ears4you.com.
About American Hearing Aid Associates
American Hearing Aid Associates (AHAA) represents the nation's highest quality and most accessible hearing health care network, comprised of professional audiologists, hearing aid dispensers, otolaryngologists, hospitals, and universities across the country. AHAA aims to raise the quality of hearing health care throughout America by continual evaluation and upgrading of the educational standards and technical expertise of our hearing associates. Learn more at http://www.ahaanet.com.