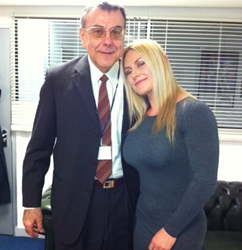 'Synchronicity' is an addictive fun romp through the hidden world of salons, hair care and Hollywood.
(PRWEB) February 27, 2014
The beauty biz isn't always perfectly coiffed, and sometimes it takes big risks to reap the biggest of rewards. Beauty pioneer Philip Sambanidis, who transformed the industry alongside icons such as Jheri Redding, is now building his own empire in "Synchronicity," a new reality drama produced by Kudos Reality Television International and Halcyon Television of Europe.
Backed by financing company Wanda Shanghai Partners Inc., "Synchronicity" follows Sambanidis, the chemist who for 33 years formulated some of the highest-grossing products for Nexxus, Redken, Matrix Inc. and Jhirmack Enterprises Inc., as he strikes out on his own with a line of beauty products through his company, Syncretic Sciences.
The show will also follow Sambanidis as he rolls out a line of lifestyle products specifically focused on hair rejuvenation. The first product, a specialty coffee that increases hair's natural body and vibrancy, is being developed with London coffee maven Bradley Steenkamp of Horsham Coffee Roaster, considered one of the most innovative coffee grinders in Europe.
The friction between Sambanidis, the son of an immigrant, his loyal friends and former colleagues – also industry icons – and industry executives is far greater than he expected. Sambanidis struggles to keep his vision alive while fending off competitors who have other plans. He quickly learns that, to survive in these choppy waters, he must become a shark.
Throughout the show, we meet various actresses and actors who work with Sambanidis in Hollywood and London. This group of A-listers embrace Sambanidis as part of the show, calling him "The Beauty Whisperer." "Synchronicity" follows Sambanidis as he makes his way through the inner circle of Hollywood's and London's elite, offering a rare glimpse into the world of the most powerful players in Tinseltown and the United Kingdom.
Louise Rodgers, Former International Federation of Bodybuilding and Fitness (IFBB) Figure Champion for England, and 2013 Miss Galaxy Universe competitor Viktoria Strelciunaite, work on-camera with Philip to develop healthy lifestyle programs as part of his lifestyle range of foods.
Can Sambanidis survive the jealousy of his competitors? Can he replicate his past success? Will his marriage survive this journey? Does fame change him?
Showrunner Pat Andrew, former Aaron Spelling protégé, said, "'Synchronicity' is an addictive fun romp through the hidden world of salons, hair care and Hollywood. It strikes a chord with the inner entrepreneur in all of us. For anyone who has ever had a dream of changing lives for the better combined with the freedom of being an entrepreneur, this is a show that will truly be an inspiration. The attractive and fun on screen personalities just add to the adventure!"
"Synchronicity" is currently being filmed in London.
Espionage writer Jon Augustine, whose credits include the USA Television hit show "Burn Notice" (2007-2013), adds drama to "Synchronicity." Sutish Sharma, former BBC journalist will also be writing for the show.
Paul Warren formerly of Canal+ is line producer. Pat Andrew serves as showrunner. Jon Baririe, former ITV executive, is editor and director photography and famed London music impresario John Ravenhall, is music supervisor.