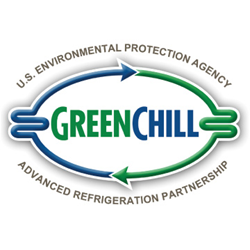 Bethpage, NY (PRWEB) February 26, 2014
King Kullen is proud to announce that they have recently received two awards from the U.S. Environmental Protection Agency's GreenChill Advanced Refrigeration Partnership. They were presented with the awards at the Food Marketing Institute Energy & Store Development Conference in Baltimore in late 2013. The two awards were the 2012 Achievement Award in Superior Goal Achievement and the 2012 Achievement Award in Exceptional Goal Achievement.
The superior goal achievement award goes to each partner that achieves its annual GreenChill refrigerant emissions reduction goal. The exceptional goal achievement award goes to each partner that achieves its "stretch" refrigerant emissions reduction goal. Stephen Mitchell, director of mechanical engineering for King Kullen, was on hand to receive the awards on behalf of the grocery store.
In regards to the award, Mitchell said, "The goals achieved that allow for this award are due to the high level of preventative maintenance that is performed on our mechanical equipment daily. The cooperation between the mechanical contractors and store level managers is crucial to the continued success of all our mechanical operation."
King Kullen entered into this voluntary GreenChill program in 2009. The program promotes green technologies, strategies and practices that protect the stratospheric ozone layer, reduce greenhouse gases, and save money. King Kullen committed to require all new and remodeled stores to be ozone friendly in advance of the Clean Air Act phase-out requirements. King Kullen also agreed to establish an emissions inventory, which will be used to set emissions-reduction targets, and to participate in an industry/government research initiative to assess the performance of assorted advanced technologies.
EPA's GreenChill Partnership works with supermarkets to reduce refrigerant emissions and decrease their impact on the ozone layer and climate change. The Partnership helps supermarkets transition to environmentally friendlier refrigerants, reduce harmful refrigerant emissions and adopt greener refrigeration technologies and environmental best practices. There are approximately 8,000 GreenChill Partner stores throughout the nation. For more information on EPA's GreenChill Partnership, please visit http://www2.epa.gov/greenchill.
About the company:
Headquartered in Bethpage, New York, King Kullen Grocery Co., Inc. is recognized by the Smithsonian Institution as America's first supermarket. Michael J. Cullen opened the doors of King Kullen in 1930. Today, four generations later, King Kullen is still family-owned and operated. It remains a leader in the supermarket industry. From that very first store in 1930, King Kullen today operates 39 supermarkets and four Wild by Nature stores across Long Island. In addition to traditional grocery, King Kullen features a large catering and prepared foods department, freshly-baked breads and sweets, and healthy and organic areas, with pharmacies in many stores as well. For information about King Kullen, please visit their website at: http://www.kingkullen.com.