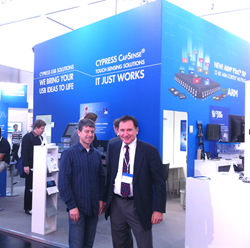 Campbell, CA (PRWEB) February 27, 2014
Embedded World kicks off this week at the Nuremberg Exhibition Centre in Germany. Embedded World is an annual exhibition and conference featuring some of the most leasing, high-tech products in the embedded space. There are over 900 exhibitors and more than 22,500 trade visitors. The conference participants come from over 58 countries -making it the world's biggest embedded event. Amulet is sharing a booth with Cypress where its latest product development projects are going to be featured -including a High Performance 7" Display Module which is planned to launch soon.
About Amulet Technologies
As a recognized leader in high-performance embedded graphical user interface solutions, Amulet enables product designers to easily achieve smartphone-like interfaces on new and existing microcontroller based products. Amulet's innovative GUI development tools reduce development time down to days or weeks, instead of months, or years. This allows for the many design iterations that are required to create the most dynamic user experience possible. Amulet's Graphical OS™ includes a set of behaviors and functions that eliminate the need for expensive graphic libraries and tedious programming. Amulet's production solutions include fully-integrated modules, controller boards and chips which can be implemented in a wide range of applications. Visit Amulet Technologies online at http://www.AmuletTechnologies.com.
About Cypress
Cypress delivers high-performance, mixed-signal, programmable solutions that provide customers with rapid time-to-market and exceptional system value. Cypress offerings include the flagship PSoC 1, PSoC 3, and PSoC 5 programmable system-on-chip families and derivatives, CapSense touch sensing and TrueTouch solutions for touchscreens. Cypress is the world leader in USB controllers, including the high-performance West Bridge solution that enhances connectivity and performance in multimedia handsets, PCs and tablets. Cypress is also the world leader in SRAM memories. Cypress serves numerous markets including consumer, mobile handsets, computation, data communications, automotive, industrial and military. Cypress trades on the NASDAQ Global Select Market under the ticker symbol CY. Visit Cypress online at http://www.cypress.com.