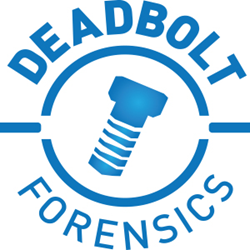 (PRWEB) February 27, 2014
Deadbolt Forensics, LLC, a new firm specializing in digital forensic analysis, announced today that they have officially opened for business in the Pacific Northwest region. Deadbolt Forensics specializes in digital forensic analysis services for civil, criminal, plaintiff and defense work, and is licensed to operate in Oregon, Washington state, and Alaska.
"We are proud to be of service to attorneys and their clients in the Pacific Northwest and Alaska," said Michael Yasumoto, Senior Forensic Analyst at Deadbolt Forensics. "Our goal is to work directly with attorneys in a support capacity, and we aim to do so at unmatched levels of quality and professionalism."
Deadbolt Forensics offers expert-level service in data preservation, electronic evidence retrieval, analysis, hard drive sanitization, and password/data recovery. They are also available to provide neutral expert witness services for any cases that go to trial.
Among the service packages available at Deadbolt Forensics is forensic duplication of Electronically Stored Information (ESI) on a wide array of mobile devices, including iPhones, iPads, Blackberries, and Android devices. Along with traditional data extraction from these devices, the team at Deadbolt offers JTAG extractions for supported devices, allowing for a more complete retrieval of ESI from the device.
"Not many firms offer JTAG extractions because of the specialized training required for executing such a complicated task successfully, but they are one of our specialties," said Yasumoto.
All electronic evidence recovered from computers is handled with forensically sound techniques by the team at Deadbolt Forensics, ensuring that the data retrieved is both intact and admissible in court. A forensic examination of computer hardware from Deadbolt Forensics includes examinations of deleted, encrypted, and password protected areas of the digital evidence that is not readily accessible.
Deadbolt Forensics also offers written forensic reports which can be signed affidavits, and secure data disposal for confidential files, complete with a certificate of deletion.
In some cases, Deadbolt Forensics will offer indigent rates and even perform pro-bono work. For indigent cases, Deadbolt Forensics bills at OPDS rates for Oregon and discounted rates for Washington that have been previously approved by Clark County's Indigent Defense Office.
"We pride ourselves on our ability to offer an accurate, unbiased presentation of the facts for use as evidence in the court system," said Yasumoto. "We believe that anyone in need of our services should be able to obtain them fairly, and without regard to their financial situation, which is why we offer indigent rates and pro-bono work to certain special cases."
About Deadbolt Forensics
Deadbolt Forensics is a privately held company focused on digital forensics and the associated services of data preservation, electronic evidence retrieval, analysis, neutral expert witness services, hard drive sanitization, and password/data recovery. The company works directly with attorneys and litigation support teams in both criminal and civil cases supporting plaintiff and defense clients. Deadbolt Forensics accepts clients in the states of Oregon (Registry# 906073-92), Washington (License# 603343020), and Alaska (License# 1000625). For more information on pro bono services offered to our partners in the non-profit sector, please contact us at publicrelations(at)deadboltforensics(dot)com .
Contact:
Deadbolt Forensics, LLC
1915 NW AmberGlen Pkwy Suite 400 Beaverton, OR 97006
Phone: (503) 683-7138
Fax: (503) 296-5504
Email: info(at)deadboltforensics(dot)com
Web: http://www.deadboltforensics.com