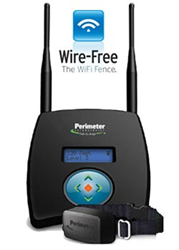 These are the most high-tech invisible dog fences that we carry.
Tampa, FL (PRWEB) February 27, 2014
Pet Street Mall, a leader in pet supply products, is excited to announce a new high-tech side to its current inventory. Responding to a global demand for more cutting edge goods, Pet Street Mall has extended its catalog by carrying Perimeter Technologies latest WiFi Dog fences.
Operating out of the northern east coast of the United States, Perimeter Technologies makes the original WiFi Dog Fence. Using a blend of old and new technology, the WiFi dog fences use a microchip transceiver to constantly link your dog's location in the yard. Unlike older dog fence technology, the Perimeter Technologies WiFi fences are connected by Transceivers that constantly link the distance between the dog and the Smart Station. This allows owners to know the location of a dog at all times while reminding the pooch to respect its boundary area.
Composed of tough, waterproof polycarbonate and lightweight plastic, the WiFi Dog collars and transmitters are an option for pet owners who live in any type of environment. The transmitters can also use more than one collar at the same time, which is perfect for a home with two dogs. The WiFi Systems are able to cover a huge amount of area, too. According to Perimeter, their WiFi fences have a boundary of nearly 3 acres for dogs to enjoy the outdoors.
"These are the most high-tech invisible dog fences that we carry," said a spokesman for Pet Street Mall. "Integrating WiFi with dog fences is the future of keeping our pets safe in our yards. We're excited to carry these top-quality Perimeter Technologies products."
In addition to keeping dogs safe in your own yard, Perimeter boasts that its newest WiFi fences are easily portable and can be used almost anywhere the user requires. If you're traveling to a friend or family members home that doesn't have a fenced in yard, this is the perfect solution for keeping your pet safe while it plays off its leash.
With more and more pet products being made overseas, Pet Street Mall says they are thrilled to offer a quality product that was engineered, designed, manufactured and distributed in the United States.
For more information about Pet Street Mall, visit Petstreetmall.com.