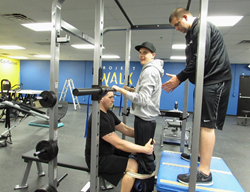 My goal is to be more independent and have my body do some of the things it used to do before my accident.
Las Vegas, NV (PRWEB) February 27, 2014
On a brisk Thanksgiving morning in 2011, Utah native Erik Rico, 24 was wrapping things up at work when he was asked to run one last errand before going home. Needing to load hay in a nearby town, Rico drove a forklift to finish the job. Shortly after leaving, Rico was rear-ended by a driver in a semi-truck who didn't see Rico in the forklift. Rico was taken to a Utah hospital where he was diagnosed as T-10 complete spinal cord injury and has since been dreaming of the independence that was taken on that fateful day.
Today, Rico is focused on making life in his wheelchair an afterthought and is gaining ground at the Project Walk Paralysis Recovery Center in Las Vegas, NV. With the support and love of his wife, Stacie; Rico has spent the last few weeks pushing boundaries and gaining momentum at Project Walk's newest facility.
"When I was in the ICU, the surgeon flat out said I better get used to my [wheel]chair because I will always be in it," says Rico. "That's a really hard thing to hear when you've just gone through something as horrific as the accident I went through." He adds, "I started doing research on alternatives because I didn't want to settle and found Project Walk's website online."
Based on The Dardzinski Method, Project Walk is the pioneer in activity-based recovery with nearly two decades of experience working with spinal cord injuries. It's the Project Walk mission to provide an improved quality of life for people living with a spinal cord injury, paralysis or mobility-related disorder through intense activity-based recovery backed by research and technology. Clients of Project Walk have come to revere their programs as some of the most forward-thinking recovery methods in the industry.
"My goal is to be more independent and have my body do some of the things it used to do before my accident," says Rico. "In the first week [at Project Walk], my Specialists saw muscle initiations in my legs which is an exciting first," says Rico.
Living with paralysis often means a life dependent on a caretaker or a loved one's help. For Rico, that very goal of greater independence is the reason for getting up and moving forward each day.
When asked to share his experience at Project Walk, Rico quickly said, "Definitely go [to Project Walk]! I've only been here a week and the program really does change your life. It's absolutely worth the time and effort to go."
For more information on Project Walk – Las Vegas or a location near you, visit the Project Walk website at http://www.ProjectWalk.org.