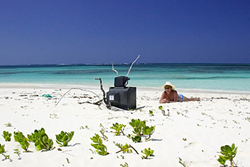 Prices are going up nearly every week. People who miss this will be kicking themselves hard in 3-5 years.
Playa del Carmen, Mexico (PRWEB) February 27, 2014
Caribbean Living is a new master planned community in the suburbs of Playa del Carmen in the heart of the Riviera Maya. It is by far the most successful real estate development in the entire Caribbean, having built, sold and delivered over 600 units in 2013.
The development features two condo models, both of which are 2 bedroom and 1 bath condos starting at $59,000 USD and 4 townhome models ranging from $79,000 USD to $169,000 USD. Two of the town home models, the popular Tropical floorplan and the largest Serenity floorplan have sold out completely and the builder has announced that it will be making some major design changes to the layout.
One of the more significant changes is the addition of another room to the downstairs living area of the Tropical model and the addition of a large balcony off the master bedroom.
"Our clients that have seen the new changes to the Tropical model are in love with the changes, especially the large balcony area off the master" says Steve Didier, Chief Marketing Officer for American Realty. "Everyone just loves the thought of sitting on that balcony and sipping their morning coffee together while enjoying the fresh air of the Caribbean. It's breakfast in paradise – every single day!"
Other changes include converting the previous garage area of the Serenity model to usable living space, providing homeowners more area to enjoy with their family or needed space in which to entertain guests.
American Realty has been helping Americans and Canadians own property in Playa del Carmen since 2005 and are experts in all areas of Mexican real estate, as well as the North American Free Trade Agreement or NAFTA.
For further information about the Caribbean Living development or if you have any other questions regarding real estate in Playa del Carmen, please visit our website.