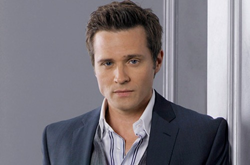 As much as I would love the idea of Kevin Ryan getting a promotion, I know that 'Castle' needs someone to come in there with some information for Castle and Beckett to then make decisions about the case.
(PRWEB) February 27, 2014
TVRage.com's Senior Writer Kelly Schremph recently chatted with 'Castle's Seamus Dever about his character, who will be Castle's best man, a Ryan/Esposito spin-off, and what's ahead for the series.
Here's an excerpt from the interview:
"TVRage: 'Castle' has had some pretty crazy cases at times — from telekinesis to haunted DVDs to arson. Do you have a favorite case that sort of sticks out?
Seamus Dever: We've had so many good ones this season. "The Wild Rover" was probably my favorite one of all time because it gave me a focal point of the episode to do the show and I enjoyed the adventure and really breaking out of what people normally get to see with Kevin Ryan and it was nice.
TVRage: Castle and Beckett's wedding is on the horizon and I don't think there's been any talk yet regarding a best man. I'm sure there's a chance he may decide to have his daughter Alexis fill the role, but if he doesn't go down that route, who do you think has the better chance of being asked, you or Esposito?
Dever: I don't think it'll be Ryan because Ryan didn't ask Castle. It would probably be Esposito over Ryan, for sure, because Ryan just went through his wedding and he didn't seem to ask him to be his best man even though they were both jockeying for it.
TVRage: Ryan and Esposito have a pretty popular bromance among fans. Does that extend off-screen as well?
Dever: Oh yeah, we're very close. Jon [Huertas] and I hang out all the time. We have a lot in common, but we're different enough that we sort of make each other laugh and surprise each other. It's kinda funny. But yeah he's a good friend now."
'Castle' airs Mondays at 10/9c on ABC.