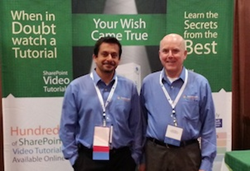 We are excited to be part of SPC-14 and look forward to mingling with the SharePoint community, extending exciting offers in our booth & showcasing features of VisualSP-the SharePoint help system-designed to empower users and increase SharePoint adoption.
Plainfield, IL (PRWEB) February 27, 2014
SharePoint-Videos.com (SPVideos), provider of online SharePoint training, consulting and end user support will exhibit at the SharePoint Conference in Las Vegas. From Monday, March 3 - Thursday, March 6, SharePoint-Videos.com invites attendees to stop by booth 1938 for a number of exciting activities.
All attendees who stop by the booth are welcome to pick up a free one-month membership card providing access to more than 800 SharePoint training tutorials. Current customers who are willing to share a quick video testimonial will receive a small token of "Thanks". SPVideos will also be giving out daily prizes including: 1-year annual subscriptions to SharePoint-Videos.com, autographed copies of SharePoint MVP, Asif Rehmani's latest book "First Look - SharePoint 2013 for Power Users", and more!
The company hopes to accomplish a number of objectives at SPC, with an overarching goal of increasing awareness of the company's products and services aimed at empowering end users and therefore increasing SharePoint adoption within an organization. SPVideos will showcase first-hand some of the new features available in the latest release of VisualSP™ - the SharePoint help system providing in-context, on-demand support for end users. The company will also introduce a new partner program designed to create mutually beneficial partner relationships with systems integrators, vendors and consultants. The partner program will make SPVideos online training and end user support tools available to partners thus allowing them to provide more value to their customers and open up new opportunities for business. Lastly, SPVideos works with many Microsoft MVPs, MCTs, book authors and community influences to provide the best training and consulting in the industry. SPC provides an excellent opportunity for collaboration and strategic planning with these SharePoint experts.
In addition to the on-going activities happening at the SharePoint-Videos.com booth, the company will also be participating in many other exciting activities at SPC.
1) Monday, March 3, 12:00 pm: SPVideos and Critical Path Training will make an exciting partnership announcement launching a new program that provides "SharePoint Full Life-Cycle Training" in the CPT booth #733.
2) Tuesday, March 4, 3:00 pm, Asif Rehmani presents a SPC session with Mark Gillis of Microsoft on "No-Code Solutions for SharePoint 2013"
3) Wednesday, March 5, 1:00 pm: Asif Rehmani will lead a presentation followed by a book-signing & raffle in the AgilePoint booth #809.
For more information about activities happening at the SharePoint-Videos.com booth #1938 at SPC, please contact Kari Bennett at kari(at)sharepointElearning(dot)com.
About SharePoint-Videos.com
SharePoint-Videos.com (SPVideos) provides online SharePoint training, consulting and end user help for SharePoint users delivered through a Help tab in the SharePoint ribbon. SPVideos strives to empower end users to be more productive when working within their current SharePoint work environments by giving them the tools they need to reinforce the knowledge they've learned, thus helping organizations increase SharePoint adoption. http://www.SharePoint-Videos.com