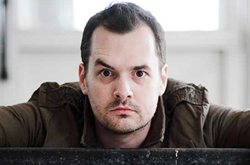 I just hope that it's a fair representation of guys like me. I hope I empower other sleazebags and they feel that they can be good people as well.
(PRWEB) March 01, 2014
He's not only a stand-up comedian, but Jim Jefferies is the man responsible for 'Legit' on FXX. During a recent conference call, TVRage.com's Robert Thoms, alongside other reporters, chatted with the Australian about the new season, why he thinks it's better than Season 1 and how his characters are based on people he actually knows.
Here's an excerpt from the conference call:
"You'd think a show that regularly mixes drugs with disabled people and hookers would have a line of picketing protestors, but 'Legit' manages to keep it real and keep such issues in perspective. It's also a big step in proving that not everything bad comes from bad places.
"The only reason we had the character, Billy (DJ Qualls), as a muscular dystrophy character, is because I grew up with a guy with muscular dystrophy. And I took a guy with muscular dystrophy to a brothel before he was going to die. He was one of my best friends and he's still alive, mind you, so that all really happened.
"Then when you have a character like Billy in the show, he has to come from a home, and so you have to populate that world and so then you have to bring other disabled actors, and so I think people could watch the show and say that we have a hard-on for having disabled characters in that show, but that's just not the case. It's just organically where the story from my actual life started, and where it is built."
'Legit' airs Wednesdays at 10/9c on FXX.