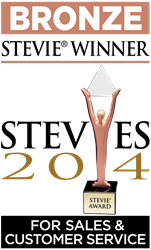 Being recognized as an industry leader is always a reminder to us that what we do not only affects our business, but the lives of our participants.
Greensboro, NC (PRWEB) February 28, 2014
The Brooks Group was presented with a Bronze Stevie Award in the Sales and Customer Service category in the eighth annual Stevie Awards for Sales & Customer Service.
The Stevie Awards for Sales & Customer Service are the world's top sales awards, contact center awards, and customer service awards. The Stevie Awards organizes several of the world's leading business awards shows including the prestigious American Business AwardsSM and International Business AwardsSM.
The awards were presented to honorees during a gala banquet on Friday, February 21 at the Bellagio in Las Vegas. More than 400 nominated customer service and sales executives from the U.S.A. and several other countries attended.
The Business TalkRadio Network will broadcast a recording of the presentations this Wednesday, February 26, at 8:00 pm ET.
More than 1,500 nominations from organizations of all sizes and in virtually every industry were evaluated in this year's competition, an increase of 36% over 2013. Finalists were determined by the average scores of 129 professionals worldwide, acting as preliminary judges. Entries were considered in 43 categories for sales and business development achievements, ranging from Senior Sales Executive of the Year to Sales Training or Coaching Program of the Year.
More than 260 executives around the world participated in the judging process for the 2014 awards, to determine the Finalists and then the Gold, Silver and Bronze Stevie Award placements.
This year marks a fourth consecutive win for The Brooks Group in the Sales Training Provider of the Year category. "Our team at The Brooks Group works non-stop to ensure top-level service to our clients and trainees. Being recognized as an industry leader is always a reminder to us that what we do not only affects our business, but the lives of our participants," states Jeb Brooks, President and CEO at The Brooks Group. Over the years IMPACT Selling® has become a trusted source for reliable sales transformation. According to Brooks, "we would like to thank all of our clients for their dedication to our services and the Stevie Awards for this distinct award. We are truly grateful."
"Entries to the Stevie Awards for Sales & Customer Service awards have almost doubled over the past few years," said Michael Gallagher, president and founder of the Stevie Awards. "Not only have we seen a dramatic increase in the number of entries; but the judges have also seen a remarkable rise in the quality of the nominations submitted overall. We congratulate all of this year's Stevie winners for their outstanding work."
About The Brooks Group
Founded in 1977, The Brooks Group is an award-winning B2B sales training company focused on bringing practical, straightforward solutions to your sales force selection and training challenges.
The Brooks Group's suite of sales and sales management training programs are street-smart, logical and taught/reinforced in a way that guarantees clients realize a return on their training dollars immediately following the training. The Brooks Group's clients get the best available resources for screening, training, developing and retaining sales and sales management talent customized specifically to their organization's needs.

94% of The Brooks Group's training participants win new accounts as a result of the training
99% see increased sales volume
75% say they're better at building trust and rapport and are more confident in approaching prospects.
To learn more about The Brooks Group, visit http://www.TheBrooksGroup.com.
To access free, immediately usable sales development tools, visit our Free Sales Tools page: http://www.brooksgroup.com/free-sales-resources/sales-training-tools/.
About The Stevie Awards
Stevie Awards are conferred in five programs: the Asia-Pacific Stevie Awards, The American Business Awards, The International Business Awards, the Stevie Awards for Women in Business, and the Stevie Awards for Sales & Customer Service. Honoring organizations of all types and sizes and the people behind them, the Stevies recognize outstanding performances in the workplace worldwide. Learn more about the Stevie Awards at http://www.StevieAwards.com