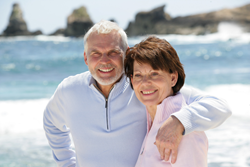 According to Annuities24-7.com CEO Scott Briggs, 'Consumers who are considering an annuity should have a broad base of knowledge.'
Farmington Hills, MI (PRWEB) February 27, 2014
A new financial information website, Annuities24-7.com, can answer basic questions about annuities and help consumers plan for their retirements. It offers a variety of useful tools such as retirement income calculators, and more.
According to company CEO Scott Briggs, the website was created to help consumers make informed decisions about financial products like annuities.
Briggs noted, "Consumers who are considering an annuity should have a broad base of knowledge" before making their purchase. This is essential, Briggs pointed out, because annuities offering the most benefits are often the most complex.
One example is a type of annuity called the hybrid, or hybrid index annuity. A single hybrid annuity contract can provide a combination of market-based upside potential, income for life with a guaranteed floor, and a measure of control over the money remaining in the contract.
This combination of benefits can be extremely attractive to someone looking for lifetime income that can grow to offset inflation. But annuity products like hybrid annuities are no place for the financial novice. That's why Annuities24-7.com gives consumers access to a nationwide network of licensed professionals who are pre-screened for their expertise in annuities (including hybrids).
Referring to complex annuities like hybrids, CEO Briggs cautioned, "If you're not skilled swimming in financial waters, it makes sense to stay away from the deep end of the pool."
The team of online professionals at Annuities24-7.com can provide any support needed. Consumers can call in to ask general questions about annuity basics. If the caller wishes to talk about their personal finances or specific financial products, Annuities24-7.com will then refer them to one of these licensed professionals.
Consumers who are "just getting their feet wet" can get a basic understanding of annuities (and other financial products) by visiting Annuities24-7.com.
About Annuities24-7.com
Annuities24-7.com is an independent annuities information and referral resource based in Farmington Hills, MI. The company's founder and CEO is Scott Briggs, a member of the Briggs family, a respected team of financial professionals who specialize in wealth management and asset preservation. Learn more by visiting annuities24-7.com.
For additional information, contact Lidia DeBruyn at (248) 987-2993 or via email at LDeBruyn(at)annuities24-7(dot)com.