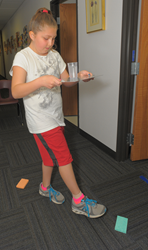 We are so honored to be collaborating with the Arizona Occupational Therapy Association to present this workshop at their annual conference.
Denver, Colorado (PRWEB) February 26, 2014
The Sensory Processing Disorder (SPD) Foundation is teaming with the Arizona Occupational Therapy Association (ArizOTA) to present the GOAL workshop as the pediatric track of the 2014 ArizOTA Spring Conference on April 12, 2014 in Phoenix, Arizona. This workshop trains professionals in the administration, scoring, and interpretation for intervention of Dr. Lucy Jane Miller's new "Goal-Oriented Assessment of Lifeskills" (GOAL); an innovative new evaluation of functional motor abilities needed for daily living in children ages 7-17.
Attendees complete the activities in breakout groups while learning to administer and score the evaluation. Each activity is linked to Intervention Targets that help therapists turn assessment results into a specific, goal-oriented treatment plans. The GOAL is useful in schools, clinics, hospitals, and private practice. It is intended primarily for pediatric occupational therapists but can be used by psychologists, physical therapists, teachers, special education and other intervention specialists.
In just 45-60 minutes, children who may have developmental delays in any of the fives domains defined by IDEA (Individuals with Disabilities Education Act) can be identified, informing planning of occupational therapy, physical therapy, and/or adaptive physical education.
"We are so honored to be collaborating with the Arizona Occupational Therapy Association to present this workshop at their annual conference," said Sheryl Benjamin, Executive Director of the SPD Foundation and STAR Center. "We have strong ties in the Arizona community through our STAR Scholarship Fund, which began with funding to help cover therapy costs for children with SPD in Arizona."
STAR Scholarship Fund provides financial aid to families seeking solutions for their children with SPD, and other sensory challenges related to Attention Deficit Hypertension Disorder (ADHD), Autism Spectral Disorder (ASD) and other behavioral and developmental delays. STAR Center, located in Greenwood Village, Colorado is the premier treatment center for these disorders, and with an unsurpassed track record. This scholarship fund provides full or partial cost of therapy based on financial need. Applications are accepted year round.
In addition to the GOAL workshop at the ArizOTA Spring Conference, the SPD Foundation has partnered with HealthLink for Children at Beaufort Hospital in Beaufort, South Carolina, where a workshop is scheduled on May 3, 2014. Other GOAL workshops are being scheduled throughout the United States in the upcoming months and will be announced on the SPD Foundation website. For information on attending or hosting a GOAL workshop, contact Susanne Geiler at info(at)spdfoundation(dot)net.
About Sensory Processing Disorder Foundation
The Sensory Processing Disorder (SPD) Foundation, a Colorado 501(c)(3), is the world leader in research, education, and awareness for Sensory Processing Disorder, a neurological condition that disrupts the daily lives of more than 4 million Americans. The SPD Foundation offers educational programs, conducts SPD research, and provides resources for parents worldwide. Dr. Lucy Jane Miller, widely recognized as a leader in SPD research worldwide, founded the SPD Foundation in 1979. The SPD Foundation provides hope and help to individuals and families living with SPD. For more information, visit SPDFoundation.net or call 303-794-1182.