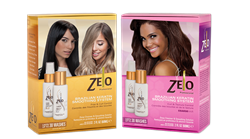 We are very excited to be working with Spilo. Their reputation within the industry is second to none. We are very pleased to have Zelo being offered to retailers through their network. - Claudio Correia, President
Boca Raton, FL (PRWEB) February 27, 2014
Zelo is a line of hair care products that deliver salon results at home. Products combine natural ingredients found around the world with the latest technology to provide healthy and beautiful hair.
The Brazilian Keratin Home Smoothing Kit is simple to use and is more affordable than in-salon keratin treatments. Zelo delivers curl control while completely eliminating frizz. The results give the hair a smooth, lustrous look that lasts up to 30 washes. The system works great on all ethnicities and hair types, even chemically treated hair. Zelo loosens tight curl patterns without permanently altering the hair structure, allowing the users to return to their curls as they please. Zelo features exotic conditioning ingredients found in the Amazon Rain Forest such as: Quinoa and Inca oil, coconut oil and organic amino acids.
"We are very excited to be working with Spilo," said Claudio Correia, President, Boca Cosmetics Group. "Their reputation within the industry is second to none. We are very pleased to have Zelo being offered to retailers through their network."
Boca Cosmetics Group: Boca Cosmetics Group is a manufacturer of innovative, quality hair care products that combine natural ingredients with the latest technology, to deliver healthy and beautiful hair.
Spilo Worldwide is a leading manufacturer, importer and international master distributor to the professional beauty industry for over 70 years.