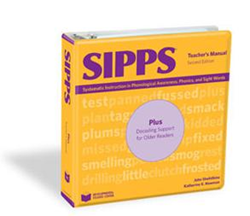 Unless we intervene and address these struggling readers, we're not going to get them reading prior to them graduating. Or they'll drop out. The SIPPS program is adult enough to work for high schoolers.
Denver, CO (PRWEB) February 27, 2014
The Developmental Studies Center (DSC), a nonprofit educational publisher focused on the social, ethical, and academic development of children, will be hosting a free event to introduce Colorado educators to SIPPS, a program on the Colorado READ act. The event specifics are as follows:
Date: Wednesday, March 12, 2014
Location: Artwork Network Gallery, 878 Santa Fe Drive, Suite 2, Denver, CO 80204
Time: 9:00–11:00 AM
The event will allow school district administrators, school principals, and teachers to become more informed on the highly successful educational intervention program that is currently being used by over 40 school district in the State.
Systematic Instruction in Phonological Awareness, Phonics, and Sight Words, or SIPPS, is a reliable and proven program that helps reading comprehension and mastery for K-12 students. The program is particularly effective in schools with ESL, ELL, Title 1, and Intervention students as SIPPS was designed to assist students with decoding, an essential part of the reading comprehension process.
The Colorado Department of Education has included SIPPS on the Colorado READ Act list as an approved intervention program. Moreover, READ Act grant funding for 2013-2014 has already been distributed for programs like SIPPS that schools may access.
Offering a systemic approach to decoding, one that is gaining ground in the State of Colorado, SIPPS helps students grasp both reading comprehension and reading fluency. The program is based on reports from the National Reading Panel and research collected by experts in the field of education, including the authors of SIPPS, Katherine K. Newman and John Shefelbine. Through an integration of research in various areas, Newman and Shefelbine understand that beginning readers need specific tasks such as "'sight' recognition of frequent words … and independent reading" in order to master fluency (1). Further, explicit instruction from teachers that assist in students becoming familiar with spelling-sound correspondences are also vital.
What Colorado educators need to know about this particular program is that it achieves the levels of intervention Colorado students require. For example, something that most programs fail to address but SIPPS focuses on is polysyllabic decoding and teaching to gain fluency. Additionally, through a systemic phonics approach, all backed by years of research, help students to increase phonemic awareness. To tie all of these methods together and ensure success, student progress is measured by a continual assessment process that allows for structured learning to fit individual needs.
To prove the effectiveness of this educational intervention program, a comparative study was conducted in California pitting two SIPPS schools (a high ELL and low SES population) against two matched comparison schools that used an alternative program. What researchers found was that low SES students achieved more through the SIPPS program and that reading in ELL students using the program increased more rapidly than native English speakers. (2)
The event in Denver on March 12, 2014 will provide an in-depth foundation to SIPPS, program samples, and a question and answer session with the presenter, Gina Zugelder EdD.
For more information or to reserve your seat, visit the Education Colorado website.
Developmental Studies Center (DSC) is a nonprofit educational publisher dedicated to children's academic, ethical, and social development. Since 1980, DSC have conducted research and developed school-based and after-school programs that help children achieve academically and develop socially.
Sources:
(1) http://www.devstu.org/research-sipps-scientific-basis
(2) http://www.devstu.org/research-sipps-research-results