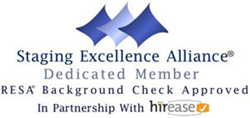 Los Angeles, CA (PRWEB) February 26, 2014
The Real Estate market has turned the corner and is growing in every market across the United States. As more and more homes go up for sale there is a growing need for additional Home Stagers. Now is a perfect time to train and become a certified Home Stager with The Academy of Home Staging. In the second quarter of 2014, The Academy of Home Staging has offerings in 3 locations – Washington, DC, New York City and Tampa Bay.
The dates, locations and specialties for each location for first quarter 2013 are:

March 3rd – 8th – Tampa Bay, FL
Dual designation, 6 day class. Includes Staging for Seniors and a dual designation certificate upon successful completion of the class.
April 7th – April 12th – New York City
6 day class which includes special field exercises and visit to the design center.
May 5th – May 9th – Washington D.C.
Bonus: Instructor holds a Master of Science in Instructional design.
The real estate market showed great return in 2013 and it is projected to continue to grow in 2014. In 2007 only 5% of houses on the market were professionally staged, according to NAR (National Association of Realtors) 25% of all homes on the market in 2012 were professionally staged.
Interested students should call 1-800-574-5576 today to register and secure their seat in our limited enrollment classes and realize these fantastic savings. All students will be eligible to apply for our finance program.
ABOUT THE ACADEMY OF HOME STAGING: The Academy of Home Staging was founded by Kim Kapellusch in 2005 in the Los Angeles area, and has quickly become the Industries' premier Home Staging and Redesign Certification Training Program. Today The Academy operates in California; Dallas, TX; New York City, NY; Seattle, WA; Tampa Bay Area, FL; and Washington, DC. In addition to its leading classroom certification classes The Academy offers a full CD based course, ongoing education and one-on-one business counseling.
For more information call 1.800.574.5576 or visit http://www.TheAcademyOfHomeStaging.com.