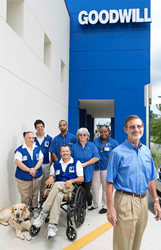 Our successes are reflected in the impact we have on the people we serve, the lives we change, and in the neighborhoods we call home. These success stories are growing every year. - Bob Rosinsky, president and CEO of Goodwill Manasota
Bradenton/Sarasota, Florida (PRWEB) February 26, 2014
Goodwill Manasota made a big impact on the Suncoast in 2013, injecting $39.3 million in wages into the local economy. Additionally, Goodwill Manasota placed 537 job seekers into employment, a 34-percent increase from 2012, and employed 750 people within its organization in 2013.
"Our successes are reflected in the impact we have on the people we serve, the lives we change, and in the neighborhoods we call home. These success stories are growing every year," said Bob Rosinsky, president and CEO of Goodwill Manasota.
Goodwill's career and job placement services help reduce unemployment, poverty, crime, and the need for government support services while boosting the local economy.
Here is a glimpse of how Goodwill Manasota met that challenge:
Economy: Our communities benefited from a stronger workforce and a $39.3 million economic output and fiscal impact in wages.
Jobs: We placed 537 job seekers into competitive community employment, at an average wage of $10.50/hour. Goodwill Manasota, operating in Sarasota, Manatee, DeSoto and Hardee counties, also employs more than 750 individuals. These new employees are youths, adults, veterans, and seniors in our communities with disabilities, economic disadvantages, and those who lost jobs but are now on the road to achieving greater independence.
Training: Goodwill is a leader in providing workforce development services, training, and job placement to our communities' most vulnerable. In 2013, Goodwill Manasota served more than 16,000 individuals through our Job Connection Centers and other services. We also served 329 veterans.
Going Green: Goodwill diverted more than 37 million pounds of items that would have otherwise ended up in area landfills.
Statewide job growth: Florida Goodwills either provided or helped individuals find more than 40,000 jobs in the State of Florida and served more than 132,000 individuals in 2013. Our total economic impact was $1.5 billion.
"By operating our social enterprise, employing people who otherwise would be unable to secure an occupation, and placing hundreds of people into competitive employment, Goodwill helps individuals gain independence while providing a very tangible economic impact to our communities," said Rosinsky. "With our agency's growth and strategic plan for 2014, we anticipate that we will see significant expansion of our impact in the community this year."
The expansion of Goodwill's services is directly tied to the support from the community. Whether donating, shopping, volunteering or participating in programs - it is our friends that create the fabric that spreads goodwill throughout our community.
About Goodwill Manasota
Goodwill Manasota is an industry-leading, 501(c)(3), not-for-profit organization that changes lives through the power of work. We accomplish our mission through a network of Good Neighbor Centers in Sarasota, Manatee, Hardee and DeSoto counties and our Mission Development Services (MDS) around North America. For more than 110 years, Goodwill has provided opportunities through such programs as Donated Goods Employment Services, Job Connection, American Veterans & their Families Initiative, JobsPlus, Supported JobsPlus, GoodwillWorks, HomeBuyer's Club, Mission Development Services, White Glove Services, Good Neighbor Program and Ambassadors Program. Goodwill continues to assist people with disabilities and barriers to opportunity by changing lives through the power of work. Goodwill Manasota, Inc. is legally organized under the laws of the United States and the State of Florida. We are accountable to a local Board of Directors. Goodwill Manasota in essence belongs to this community, and is NOT owned by any individual or company. For more information, visit EXPERIENCEGOODWILL.ORG.