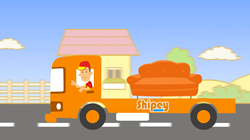 Los Angeles, California (PRWEB) February 26, 2014
Coming May 2014 – The Shipey App. In its final phase of development, the Shipey app is already garnering positive reviews and excitement from everyday shippers. Consumers are excited by the ease of finally being able to obtain safe, reliable transport of hard to ship items. One of the best parts about the Shipey app is that it allows shipments to be arranged and delivered on the same day, no longer requiring expensive traditional shipping or freight items.
Shipey is a brand new product and brand new idea. Investors are showing great interest in this new market opportunity. Venture capitalists like the potential for quick growth, and they really like the low risk of and fast return potential in this viral market. Apple said it best: "There's an app for that." Finally, Shipey fills the gap in consumer and business shipping that was traditionally dominated by big shipping conglomerates.
How does it work? Drivers use their vehicles to deliver goods and documents within their town. Often, the deliverables are wanted in a quick time frame, and the Shipey app facilitates all time frames and items. Shipey makes sure all drivers are "up to code," trustable and safe. Consumer trust is a must. After a driver has been approved, they are shown on the map as a local shipper. An end user can easily click on the closest driver to them and obtain a quote. If the end user likes their option, and the drivers reputation, they can set up the shipment within a few clicks. The driver then picks up the item and takes it directly to the delivery location. Costs are minimal, and Shipey collects a percentage of each delivery. The first markets show a tremendous demand for this service.
What can be shipped? Anything. From products that are traditionally considered hazardous such as batteries or paint, to couches, all the way down to documents, which can also be delivered by bicycle messenger. The app shows what items a driver is able to carry.
What is the potential market? Shipey aims to reach all consumers and businesses. Traditional courier services, as well as over the road transit and even the kind of shipment you would call your brother-in-law for are covered in this one convenient app.
Take note, the Shipey app launches soon and will show an explosive growth rate in a market where the revenue is measured in billions of dollars.