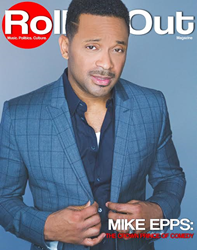 I think I've done a great job growing up as an actor.
Atlanta, GA (PRWEB) February 27, 2014
Comedian Mike Epps is growing up right before our eyes. It's hard to see this because we are always wiping the tears from our eyes from laughing at all the funny antics and performances this man has channeled from his funny bone. Epps now wants us to see his serious side in the upcoming thriller "Repentance", co-starring Forest Whitaker.
"I think I've done a great job growing up as an actor. A lot of people don't realize that comedians come from a dark world. Comedians are really, really great transitional artists," the actor tells writer Mike James.
Rolling out sat down with the gifted and talented comedian who reflected on his career and success. Epps looks forward to pushing the boundaries of his acting chops and to fulfilling an educational goal.
"I think the three keys to success is love the people who love you, pray for the people who don't, and really, really work hard and treat people right," he says.
Visit rollingout.com to read the interview in its entirety.
About Rolling out Magazine:
Rolling out, the nation's largest free urban weekly, is a digital and print magazine that focuses on the black experience in response to entertainment, politics, fashion, culture, sports and lifestyle points of interest. Headquartered in Atlanta, rolling out is positioned as the voice for the African American experience, using its newspaper as a platform in the marketplace to express urgency for education reform, and to document entrepreneurial endeavors and other relevant issues in the Diaspora. For information on rolling out, please log on to rollingout.com.