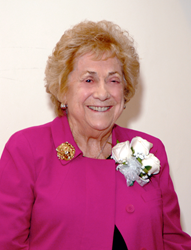 My primary concern throughout my career was to advocate for the elderly and to ensure the credibility of the nursing home industry.
Duxbury, MA (PRWEB) February 27, 2014
The Welch Family of Massachusetts honors the memory and legacy of Rita M. (St. John) Welch, who passed away on February 6, 2014 at the age of 93. Mrs. Welch, who founded Welch Healthcare and Retirement Group with her late husband, Thomas "Frank" Welch, will be remembered as a trailblazer and a tireless advocate for older adults, and as a generous and loving mother, grandmother and great-grandmother. With her strong work ethic and charming personality, she was a pioneer in the evolution of senior care and living options as we know them today. Her legacy will be remembered by the thousands she has touched and the many lives she has changed.
Early in their marriage, childhood sweethearts Frank and Rita, with four young children, made a decision to open their two-story home to care for frail older adults. This event in 1949 marked the founding of the John Scott House in Braintree, Massachusetts and set the Welch Group's family oriented approach to caring for older people in motion.
Now over six decades later what began as a modest 11-bed nursing home has grown into a organization that provides a continuum of care services to over 2,500 seniors who require housing or care options, including independent living, assisted living, short-term rehabilitation and long-term care, Alzheimer's care, adult day health and home care services on a daily basis.
Mrs. Welch brought her vision of compassionate care to the state and national levels as a legislative advocacy. She was a founding member and three-term president of the Massachusetts Federation of Nursing Homes, secretary of the national American Nursing Home Association and mother of seven. In the late 1960s, shortly after the advent of Medicare and Medicaid legislation, Mrs. Welch became a familiar figure at the State House and in Washington. Known for always speaking her mind, she was never shy talking about raising industry standards and challenging public policies. Mrs. Welch was appointed first Licensing Commissioner for the Commonwealth of Massachusetts, and proudly held the first nursing home administrator license issued in the state. Stonehill College honored her in 2010 with an honorary degree of Doctor of Humane Letters. At the time when asked about her years of work, Mrs. Welch stated, "My primary concern throughout my career was to advocate for the elderly and to ensure the credibility of the nursing home industry."
That same year at the age of 89, Mrs. Welch wrote and published her memoir, Hand in Hand: My Family and My Business, which recalls the origins of an industry in its infancy, building a business and raising a family. In her fifties, she and Frank passed leadership and the day-to-day operation of the company to their children, having nurtured in each a strong level of confidence and commitment to the business. In her memoir, Mrs. Welch reflected on her legacy and family business saying, "My life is like a tapestry, where the story of motherhood is tightly woven with the work I did as a businesswoman."
In the evening of February 6, Mrs. Welch was surrounded by her loving family, who gathered to honor a loving mother, a remarkable woman and her remarkable life.
You will forever have our love, respect and gratitude.
The Welch Family
Written by Brian P. Cosgrove, Welch Group Marketing Coordinator and grandson of Rita M. Welch