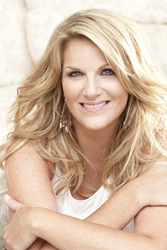 New Brunswick, NJ (PRWEB) February 26, 2014
State Theatre presents Grammy® Award-winning Country artist Trisha Yearwood on Wednesday, March 12, 2014 at 8pm. The concert will feature fan favorites and beloved hits from her numerous albums that have sold over 12 million copies over the course of her esteemed career. Opening for Trisha Yearwood will be special guest, singer songwriter Karyn Rochelle. Tickets range from $35-85.
One of the highest-selling female artists in Country music history, a New York Times Bestselling cookbook author, and now a Food Network star, Trisha Yearwood has a habit of surpassing expectations. Since her 1991 debut, Yearwood has recorded 12 albums and achieved a hit-list of nine #1 hits and 20 Top Ten hits under her belt, including "She's in Love With the Boy," "Walkaway Joe," and "How Do I Live."
In an unexpected twist, Yearwood turned her favorite hobby into a family project with a cookbook series that combines Yearwood family anecdotes and recipes. In 2008, she released Georgia Cooking in an Oklahoma Kitchen and in 2010 Home Cooking with Trisha Yearwood, both of which debuted on the New York Times Bestseller list. The success of the books led to her Food Network show, Trisha's Southern Kitchen which debuted in April 2012, won a 2013 Daytime Emmy® for Outstanding Culinary Program and is now in its fourth season.
In addition to three Grammy® Awards, the Grand Ole Opry member has won three Country Music Awards and two Academy of Country Music Awards.
About Special Guest Karyn Rochelle
Karyn Rochelle is a singer songwriter who grew up on the coast of North Carolina. She moved to Nashville at the age of 19 to pursue a career in music. Karyn began her career singing demos in studios all over Music City. With a uniquely recognizable voice and strong songwriting skills, she quickly made a name for herself in the Nashville music community.
She signed her first publishing deal at 20 years of age and has been on the music scene ever since. Her first song ever recorded was by the legendary father of country music, George Jones. Currently in her fourth publishing deal, Karyn has had songs recorded by Lee Ann Womack, Reba McEntire, LeeAnn Rimes, Trisha Yearwood, Garth Brooks, Sara Evans, Kellie Pickler, and many others.
Rochelle's hit songs include "Georgia Rain" and "This is Me You're Talking To" by Trisha Yearwood, "Red High Heels," "I Wonder," and "Don't You Know You're Beautiful" by Kellie Pickler, and "A Table Away" by newcomer Sunny Sweeney.
For tickets or more information, call the State Theatre ticket office at 732-246-SHOW (7469), or visit us online at http://www.StateTheatreNJ.org. The State Theatre ticket office, located at 15 Livingston Ave, New Brunswick NJ, is open Monday, Tuesday, Thursday, Friday, 10 a.m. to 6 p.m.; Wednesday 11 a.m. to 7 p.m.; Saturday, 1 p.m. to 5 p.m.; and at least three hours prior to curtain on performance dates, unless otherwise specified. For information on group outings and discounts, call 732-247-7200, ext. 517. Some additional ticket and transaction fees may apply.
State Theatre, a premier nonprofit venue for the performing arts and entertainment. The theater exists to enrich people's lives, contribute to a vital urban environment, and build future audiences by presenting the finest performing artists and entertainers and fostering lifetime appreciation for the performing arts through education. The State Theatre's programs are made possible, in part, by funding from the New Jersey State Council on the Arts/Department of State, a Partner Agency of the National Endowment for the Arts, and contributions from numerous corporations, foundations, and individuals. The Heldrich is the official hotel of the State Theatre. Magic 98.3 is the official radio station of the State Theatre. The Star-Ledger is the official newspaper of the State Theatre. United is the official airline of the State Theatre.
State Theatre presents
Trisha Yearwood
With Special Guest Karyn Rochelle
Wed, March 12 at 8pm
$85, $75, $65, $45, $35
STATE THEATRE
15 Livingston Ave
New Brunswick, NJ 08901
Ticket Office - 732-246-SHOW (7469)
Online - http://www.StateTheatreNJ.org
PHOTOS AND INTERVIEWS FURNISHED UPON REQUEST
Please contact Kelly Blithe at
732-247-7200, ext. 542 or by email at kblithe(at)StateTheatreNJ(dot)org.
Up-to-the-minute information on events and State Theatre news,
online at http://www.StateTheatreNJ.org.
# # #