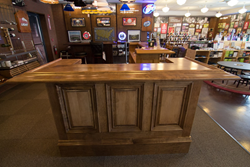 These bars aren't made from particle board. We're using real wood and building every aspect by hand right here in Buffalo. They're made to last generations.
Buffalo, NY (PRWEB) February 27, 2014
The Buffalo Home Show starts in less than two weeks, running through two weekends, over six days - Friday March 7th through Sunday March 9th, and the following weekend March 14 - 16. Those who decide to stroll through the Buffalo Niagara Convention Center on one or both of those two weekends, will experience a plethora of innovative products, new ideas, practical advice, and home improvement ideas.
The KegWorks Store, located on Military Road in Kenmore, will have two booths at the show, providing information about custom home bars. Speaking on their involvement with this year's show, KegWorks President, David Rivers, said, "We did the show many years ago, but that's when we were solely online. Now that we have our retail store, and our own fabrication shop, it makes perfect sense for us to be there. Building an in-house, custom bar is the ultimate home improvement, right?"
KegWorks opened their brick and mortar store a year ago. The 4,000 square foot retail space has a fabrication shop attached where they build and customize ready-to-assemble (RTA) bars for customers across the nation. "These bars aren't made from particle board. We're using real wood and building every aspect by hand right here in Buffalo," says Rivers. "These bars are made to last generations."
The team from KegWorks will be setup at booth #644, and they'll be there all six days, talking with attendees about all of the available options. "We'll have three bars on display at the show," says KegWorks Fabrication Manager, Bob Ledger. "One six-foot simple panel oak, a six-foot raised panel maple, and an eight-foot simple panel maple. Each of the bars we're displaying are available with custom options, including wood type, size, and finish color," says Ledger. "The bars are also available with add-on accessories, like drop-in ice buckets, extra storage, and foot rail. The bars are dry, but can be setup with plumbing for wet capability as well."
While bar building will be the focus of KegWorks' presence, they still plan to promote some of their other product staples, like kegerators, premium cocktail ingredients, and other bar tools and accessories.
"Have a question about a space in your home, setting up a draft dispensing system, or converting an old fridge to a kegerator? Stop by our booth," says Rivers. "Our staff will be on hand to answer any questions. So come by and have a drink with us."
About KegWorks:
KegWorks is a leading multi-channel merchant of home and professional draft beer equipment, bartending tools, premium cocktail ingredients and the world's best selection of novelty drink accessories. Launched in 1998, KegWorks is privately owned and continues to be recognized as one of the fastest growing companies in Western New York.