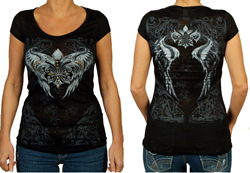 Every act of creation is first an act of destruction.
Dayton, Ohio (PRWEB) February 28, 2014
Liberty Wear is at their all time high in sales and is in part due to their unique styles of tops that involve burning. The well known wholesale manufacturer of American Made Clothes, Liberty Wear Apparel, has found a very popular way to attract buyers. Liberty Wear puts more attention on the art of burning, washing, and manipulating materials for their new line.
"Every act of creation is first an act of destruction." - Pablo Picasso
The world of burnout, mineral washes, and acid treatments to shirts has revolutionized the fashion industry. Although not a new treatment, being introduced in the 20's in Europe, the treatments to shirts today however keep surpassing previous limits.
Burn-out print involves fabrics that are made from blended yarns, core-spun yarns, or fabric mixtures of two or more types of fibers. The burn-out print chemical destroys one fiber (the cellulose) and leaves the others undamaged. Many unusual and interesting fabrics are created with this method of printing.
Liberty Wear has already announced their new 2014 line and with it, the newly inspired designs for their collection of mineral washed and burnout shirts. Liberty Wear has also announced their favorite burnouts and has relaunched them as well as a couple favorite graphics for their highly favorable treatment processes.