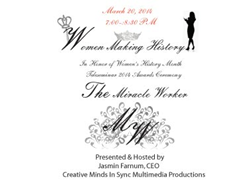 "How important it is for us to recognize and celebrate our heroes and she-roes!" - Maya Angelou, African American poet
Los Angeles CA (PRWEB) February 27, 2014
The month of March is a celebration of Women's History. There are certainly going to be a number of celebrations in honor of extraordinary women who made history. In 2013, Jasmin Farnum began celebrating women who are making history with the intent to be an annual celebration. In 2013, the Women's History Month Celebration theme was "Women Thinking Outside the Box"; for 2013 the theme is The Miracle Worker.
Jasmin Farnum will be presenting the 2013 The Miracle Worker Award to Susan Johnston, Founder/Director of New Media Film Festival, CEO of Susan Johnston Casting & Select Services Films Inc. "In the time that I have watched Susan Johnston working to her utmost abilities to improve the lives of others in both our general and global community, I have not seen her waiver. I am sure things got rough, but nonetheless she stuck it out. It is that tenacity and grit that makes Susan Johnston stand head and shoulders among the other recipients of The Miracle Worker Award.
This event is completely virtual and will be held March 20, 2014 by dialing in at 6:30 p.m. EST at 712 432-3100 access code 796314.
The Teleconference call is a free call and maybe accessed from anywhere in the world. Everyone is invited to attend the virtual, New Media-esque Women's History Month Awards teleconference.
Susan Johnston is President of Select Services Films, Inc. an award winning production company which is also certified DBE, has a casting division and New Media Film Festival division. As a kid, Susan was on the set of the 1st Great Gatsby where she met Robert Redford while her father was handling the antique cars. From there, she worked on every production she could garnering experience in every department of filmmaking. Her first film a 35mm color film noir short Room 32 which won two awards, received distribution and was requested by Spiderman 3 for their production team.
Susan founded the critically acclaimed New Media Film Festival ® in 2009 to honor stories worth telling in the ever changing landscape of media, New Media. Legendary judges cull over the content for the annual festival in Los Angeles that offers screening, competition ($45k in awards) and distribution opportunities. Currently there are over 600 titles in their library.
Johnston has a background in the traditional film and TV industry, but has also become known in recent years as a pioneering new media producer including Stan Lee's Comikaze Expo panel for Independent Creators, Co-Producing Feature Film Dreams Awake & currently producing the Marvel Comic feature Prey: Origin of the Species. While the Industry was changing from standard def to HD Johnston produced the 1stseries for mobile, Mini-Bikers the 1st live stream talk show on HD with a Panasonic Varicam and tested the Panasonic DVX100 which led to some changes on the DVX100A and was on a committee to develop the SAG Internet contract with Pierre Debs of SAG. Currently a Professor Emeritus in New Media, on New Media steering committee for The Caucus, an advisory board member for SET Awards (Entertainment Industry Council), Machinma Expo judge, New Media Institute judge and Miss America NY judge.
In 2012 LinkedIn announced Susan Johnston was one of the top 10% profiles looked at out of 20MM. With over 80,000 on the monthly newsletter elist and over 2 million across social media, Susan Johnston has been touted as a Social Media expert and lent her expertise to Los Angeles Social Media Week, IFFS, Jackson Hole Science Conference, Moviola, A Brasov Romania conference & is proud to be able to share with the American Film Market & NATPE new advancements in the social media/crowd funding space.
Prior to relocating to Los Angeles in 2000, Susan Johnston, a New England native, worked with the Providence & Rhode Island Film Commissions over 5 years to build the infrastructure used by the Farrelly brothers, as well as by director Michael Corrente, NBC's hit TV series Providence, and the New England Screenwriters Conference. She developed Context Media Studios International production capabilities as well as garnered funds before Senate Committee hearings and helped facilitate the 25% tax incentive for investors of films in Rhode Island.