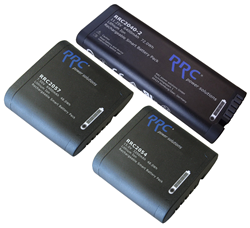 Yorba Linda, CA (PRWEB) March 03, 2014
RRC has expanded its product portfolio with three additional high energy standard Li-Ion SMBus battery packs. The RRC2040-2 is a 3S2P pack with 11.25V, 6400mAh and 72Wh. Two additional batteries are the RRC2054 and RRC2057, which share the same housing dimensions, but have different ratings. The RRC2054 is a 4S1P unit with 15V, 3200mAh and 48Wh. The RRC2057 has a 2S2P cell configuration with 7.5V, 6400mAh and 48Wh. The batteries are SMBus & SBDS Rev 1.1 compliant and meet the JEITA standards (required for export to Japan). The batteries also utilize the impedance tracking technology, so there is no need to manually calibrate the battery. The battery packs have comprehensive charge/discharge safety systems as well as passive safety electronics, worldwide agency certification approvals (e.g. IEC 62133 Edition 2), and international recycling support. Used in combination with RRC's battery chargers, the performance can be optimized including accelerated charging.
Company Profile of RRC power solutions
RRC power solutions Inc. is a worldwide technology supplier of high-quality batteries, chargers and power supplies for portable applications. RRC offers both standard and custom solutions, from their line of SMBus smart standard batteries, to developing custom charging solutions. Founded in 1989, RRC power solutions corporate headquarters and R&D center is located in Hom-burg, Germany, with branch offices and production plants in Hong Kong, California, Australia and China. RRC is certified according to ISO 9001:2008 and ISO 13485:2007 manufacturing standards.