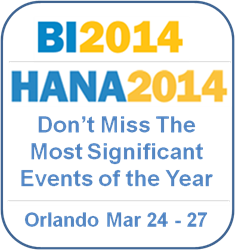 Get one-on-one time with DFT experts to discuss your specific BI issues.
Atlanta, GA (PRWEB) February 27, 2014
Decision Fist Technologies™ (DFT), an industry leader in Business Intelligence (BI) is sending 5 experts to speak at BI 2014 and HANA 2014. As widely known and respected authorities in the BI arena, DFT experts will share their insights into effective mobile analytics, back-end data processes, leveraging SAP HANA® and many more pertinent BI issues that businesses work with on a daily basis.
"These SAPinsider co-located events are among the most significant events to attend in 2014 for several reasons including quality of content, diversity of speakers, hands on labs and demos, not to mention some one-on-one time with DFT experts," comments Amanda Wierling, Director of Marketing for Decision First Technologies.
The DFT team has become widely known and trusted for their extensive knowledge in business analytics, enterprise information management, data warehousing and SAP HANA. Last year, four members of the team wrote the book, "Implementing SAP HANA", which quickly rose to #1 on SAP Press.
DFT's entire team will be available to meet with and discuss all things BI. Stop by Booth 500 to ask questions, share stories and meet the experts.
To learn more about these conferences or to take advantage of DFT's conference rate, please visit, http://info.decisionfirst.com/BI2014HANA2014.html.
DFT-led BI 2014 Sessions:
Hands-On Lab: Self-Service Reporting with SAP BusinessObjects Web Intelligence
Christopher Hickman and Patrick Leonard
Live Demo: From Raw Data to Striking Analytics in 60 Minutes Flat - A Look Inside the BI Developement Process
Bob Zenker and Patrick Leonard
Strategies for Effective and Efficient Mobile Analytics
Christopher Hickman
Guidelines and Criteria for Connecting Your Dashboard to Back-End Data Sources
Christopher Hickman
Real-Time Data Requires Real-Time Governance!
Don Loden
DFT-led HANA 2014 Sessions:
Guidelines for Extracting and Loading SAP and non-SAP data into SAP HANA
Jonathan Haun
Avoid Fast Trash in SAP HANA: Pay Attention to Data Quality!
Don Loden
About Decision First Technologies
A nationally recognized Business Intelligence authority, Decision First Technologies (DFT) delivers proven technical best practices and methodologies focused on user experience and adoption. An SAP Gold Partner and 7x Partner of the Year, DFT has earned the respect of the BI community by providing proven SAP solutions for Analytics, EIM, Data Warehousing, and SAP HANA to over 1,000 customers globally. Our recognized thought leaders share their expertise through speaking events, industry publications and authoring books such as the SAP Press best seller, Implementing SAP HANA. BI is not something we do, it's all we do.
For more information on Decision First Technologies, visit http://www.decisionfirst.com.
©2014 Decision First Technologies. All rights reserved. Decision First and DFT are trademarks of Decision First Technologies. All other products and company names are trademarks or registered trademarks of their respective owners.
###