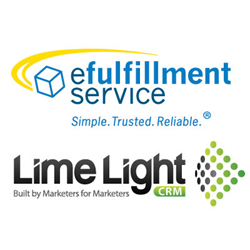 Traverse City, MI (PRWEB) February 27, 2014
eFulfillment Service (EFS), one of the nation's leading order fulfillment providers for direct response (DR) marketers, is excited to announce a partnership with Lime Light CRM, the leading provider of continuity base processing and campaign management for the DR industry.
"We're really excited about this partnership," said Steve Bulger, Sales & Marketing Manager at eFulfillment Service. "Direct response marketers are accustomed to heavy traffic, a lot of prospects, and high order volume, and they require software and services that integrate well together. By combining Lime Light's first-rate software with our technology, warehousing and order fulfillment services, we're providing marketers with a highly automated solution that makes things incredibly fast and easy for them."
"It is a pleasure to partner with a provider with the years of experience and great reputation that eFulfillment has," said Rick Del Rio, CEO and founder of Lime Light CRM. "With real time posting of shipping data from the CRM to eFulfillment, and their easy-to-use order fulfillment software, our clients can enjoy the benefits of a solid and efficient fulfillment solution."
Lime Light CRM helps marketers streamline the creation and management of direct marketing campaigns generating high volume transactions across multiple countries, and accepting most major currencies; all this through the use of proven marketing strategies, the automation of daily tasks and the integration of third party providers that effectively help to optimize the time and monetize the data.
Through this partnership, Lime Light customers will experience a seamless integration with eFulfillment Service. As orders come in, EFS will automatically pull those orders into their system, then quickly pick, pack and ship those orders to the end customer, saving marketers time and money. Once shipped, order data is then sent back to Lime Light automatically, allowing marketers to easily manage campaigns while keeping their customers up-to-date on orders and returns.
"It's competitive out there," adds Bulger. "Direct response marketers can't afford to be bogged down with inefficient systems. They need a fast, automated solution that makes things simple, provides them with the data they need when they need it, and ultimately gives them time to do what they do best, which is marketing. With this partnership, we've made campaign management and order fulfillment a highly efficient, streamlined experience."
About eFulfillment Service
eFulfillment Service (EFS) is an established, award-winning leader in eCommerce order fulfillment. Every day, hundreds of merchants and marketers from around the world depend on EFS for fast, simple, affordable order fulfillment. With high-touch service, first-rate technology, and friendly, straightforward terms, it's clear why eFulfillment Service has become one of the most trusted and respected names in order fulfillment. For more information, please visit http://www.eFulfillmentService.com.
About Lime Light CRM
Lime Light CRM, an innovative solution built by marketers, for marketers, that keeps simplicity, functionality, and cost-effectiveness as high priorities in this fast paced industry, is today one of the leading and most trusted providers of CRM, continuity base processing and campaign management solutions. For more information, please visit: http://www.limelightcrm.com.